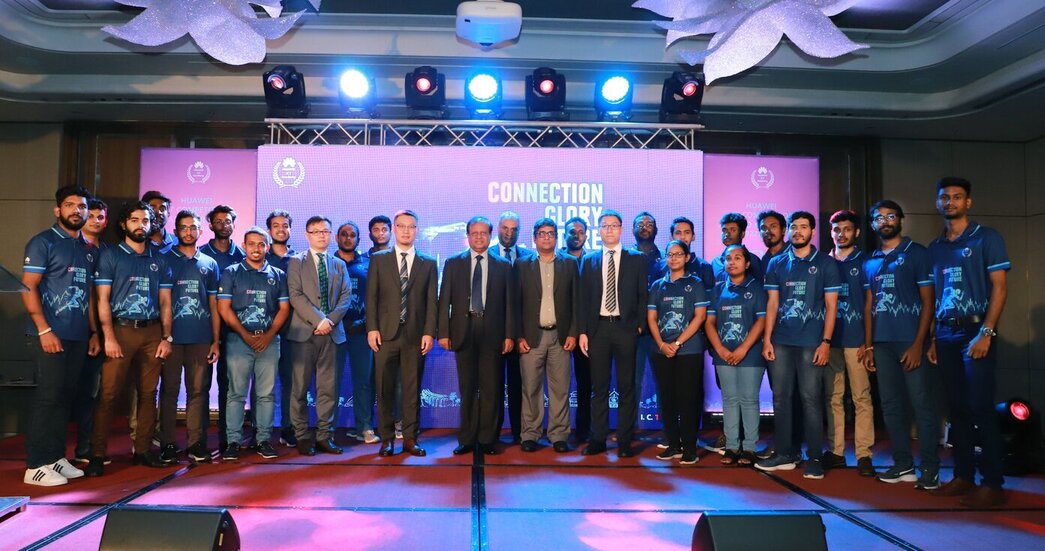 Winners of 2nd Huawei ICT Competition in Sri Lanka go to USJ and SLIIT
Huawei Sri Lanka together with Ministry of Education, Ministry of Technologies, Board of Investment, ICTA, Dialog Innovation Foundry, AIESEC Sri Lanka, Leo Club of University of Moratuwa, launch the award ceremony for the second Huawei ICT Competition in Shangri-La Hotel, Colombo. The twenty winners were from eight different universities, and the first prize of each track went to University of Sri Jayewardenepura and Sri Lanka Institute of Information Technology.
Huawei ICT Competition is a major CSR programme with Sri Lanka Universities under Huawei Asia Pacific Academy. This year, as the second Huawei ICT Competition in Sri Lanka, with two tracks — Network and Cloud, has set a new participation record by attracting almost 1000 students from over 50 universities all over the country. This competition mainly evaluates students' ICT knowledge, hands-on skills, and teamwork. Two top winner teams will represent Sri Lanka to contest the coming global competition with talents coming from other countries.
Dr. Susil Premajayantha, Minister of Education commented during the event, "With a mission to Integrated Digital Economy transformation in Sri Lanka developing Sri Lanka into a smart nation, the Government is committed to implement data-driven digital government services that bring further convenience to members of the public with the use of advanced technologies such as artificial intelligence, blockchain, cloud computing, big data and spatial data analysis.".
He further pointed out "We really appreciate Huawei effort for their role as a key partner and contributor to the Sri Lanka digital transformation initiatives and their collaborations with us helping young people around the country to improve their digital skills. The Huawei ICT Competition is one of the few National programs that can help young people connect and promote innovation on such a large scale so that they can, in turn, give back and create greater value in the digital society. As an annual event for Sri Lanka university students, the Competition provides a platform for communication, promotes ICT technologies in universities, and serves as an example for cooperation between universities and the industry".
"Along with the investment on infrastructure, the development of talented ICT talents is the key of success for Sri Lanka to become the leading digital economy in the region. That's why we committed to cultivating local ICT talent and improving the competitiveness of the country." Tao Guangyao, CEO of Huawei Sri Lanka said.
In 2021, Huawei established Huawei Asia-Pacific Academy in Sri Lanka, a CSR initiative to cultivate young Sri Lankan ICT talents for the next five years. This CSR initiative focus on three domains: University Cooperation, Vocational Training, and Digital inclusive.
With the theme of "Connection, Glory, Future", the Huawei ICT Competition gathers governments, higher educational institutions, training institutions, and industry enterprises, to promote the cultivation, growth, and employment of ICT young professionals from universities and colleges, helping the ICT talent ecosystem thrive.