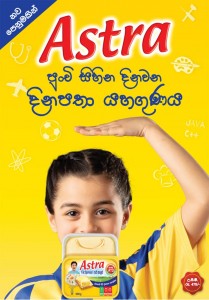 Win exciting gift courtesy of 'Astra Dream Challenge'
For a child to be creative, a child should be of profound health. Vitamin A and D will improve and strengthen the overall immune system of your child. Not only that, Vitamins A and D helps to sharpen the eyesight, strengthen the bones and to keep the skin healthy.20g of Astra, contains the daily quota of 30% of Vitamin A and D required for a child. During one's childhood, everybody has a dream ambition – to be a pilot, an engineer or perhaps a doctor. Irrespective of the ambition, everyone loves art. While chasing the top tier dreams, the children together with Astra will explore their love of art with 'Astra Dream Challenge'.
Kids under the age of 12 years can participate in this competition and they can use any medium of drawing including pastels, water colours, etc… to create their beautiful masterpiece and stand a chance to win an exciting gift courtesy of Astra! Hurry up and share your dream with us! The size of the drawing should be A4 and any medium of colouring/drawing can be used.
3 Lucky winners will stand a chance to win exciting prizes from Astra. Clearly write your name, home address and contact number and send it over to PO box – 1119. Deadline extended to 5th of April!