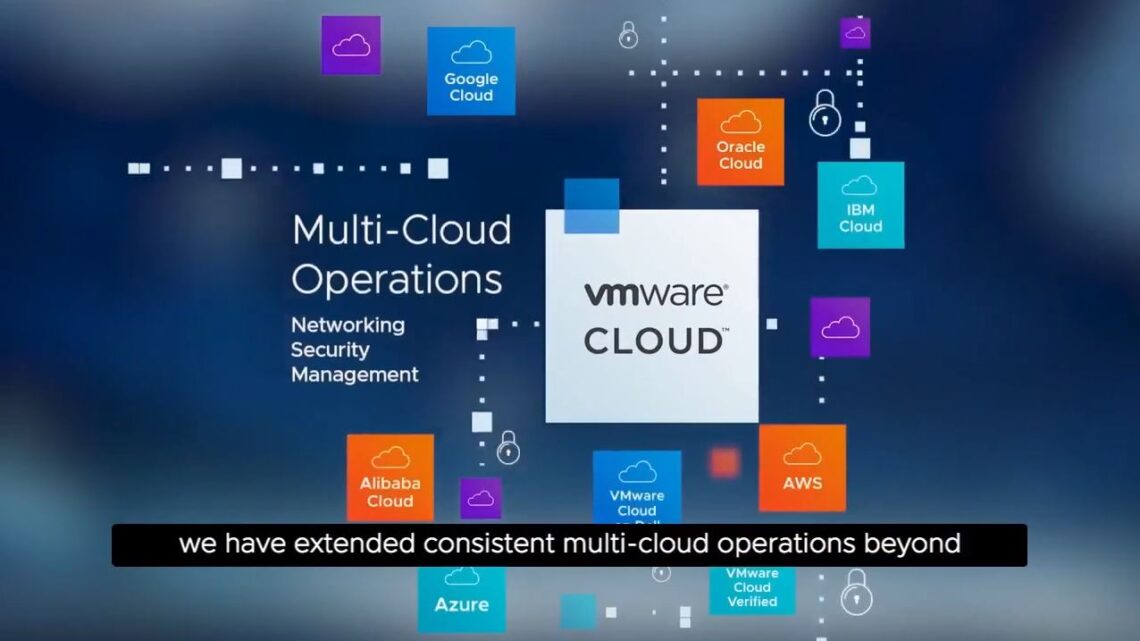 VMware Empowers Customers to Build their Multi-Cloud Future
VMware's Multi-Cloud Strategy Unlocks the Value From Any Cloud While Delivering Better
Security and Simplified Operations
VMware, Inc. (NYSE: VMW) announced new innovations to help customers build, run, manage, connect, and protect any app on any cloud. Today, more than 15 million enterprise workloads run on VMware in the cloud, and more than 4,300 partners offer VMware-based cloud services. With these new and updated offerings, customers and partners can unlock multi-cloud's full potential value by providing more developer freedom while providing IT with consistent and efficient security and operations.
VMware is delivering a range of solutions and services to help customers survive and thrive in the most turbulent market in generations. VMware's cloud, app modernization, networking, security, and digital workspace platforms form a flexible, consistent digital foundation on which to build, run, manage, connect and protect applications, anywhere. Applications are at the heart of digital transformation. They enable businesses to deliver powerful and personalized digital experiences to customers and employees. The complex and diverse needs of applications drive the need for multi-cloud strategies. VMware helps organizations at all points in their multi-cloud journey.
"VMware has reached a major milestone in its plan to unlock the power of every cloud for every business. We now support customers' application strategies by delivering VMware-based services on every major public cloud provider and hundreds of VMware Cloud Verified partners worldwide," said Raghu Raghuram, chief operating officer, products and cloud services, VMware. "As we drive our strategy forward, we are expanding our portfolio of cloud infrastructure, operations, and security services to enable faster application migration and modernization, and better business agility and resiliency."
Delivering a Unified Platform for a Modern, Multi-Cloud World
VMware supports organizations across all clouds and all application types. The company offers a complete cloud portfolio that delivers consistent infrastructure and operations and enables a flexible and agile developer model that allows businesses to:
Migrate and Modernize Apps on VMware Cloud on AWS: This will improve IT agility and maximize uptime and performance, while the new and expanded disaster recovery capabilities help minimize business disruptions.
Running VMware Applications on Microsoft Azure: the next-generation Azure VMware Solution enables customers to easily extend or migrate on-premises VMware applications to Azure. Customers can achieve cost savings and better TCO.
Simple, Scalable, More Secure Infrastructure as-a-Service On-Premises: VMware Cloud on Dell EMC, the data center-as-a-service offer of Dell Technologies Cloud, adds new VMware HCX workload migration capabilities, improved performance, new host types, and support for multiple clusters within a single rack.
Single Marketplace Featuring Thousands of Apps and Solutions: with the new consolidated VMware Marketplace, customers can discover thousands of validated third-party, open-source, and first-party solutions. These can be deployed across vSphere, VMware Cloud on AWS, VMware Cloud on Dell EMC and VMware Tanzu environments. With VMware Cloud Director service integration, partners can offer tenants a modern application catalog for developers.
Unifying Multi-Cloud Management and Operations
VMware Cloud Management enables organizations to consistently deploy, operate, and govern applications, infrastructure, and platform services across any cloud environment. New cloud management innovations enable:
Innovative Cloud Management Hybrid Subscription Solution enables proactive issue avoidance, troubleshooting and automated workflows in a unified management and support experience.
AI-driven, Cloud-Delivered Application Performance Optimization helps assure service-level agreements are met while enabling business agility as customers scale and migrate workloads across environments.
Multi-Cloud Operations for Oracle Cloud Infrastructure: CloudHealth by VMware now supports Oracle Cloud Infrastructure (OCI), enabling enterprises to view all public cloud costs from a single platform.
Multi-Cloud Security Posture Management and Compliance: CloudHealth Secure State adds real-time monitoring for Google Cloud, as well as 20 new AWS and Azure services, including managed Kubernetes and serverless configurations.
Empowering Cloud Providers with the Complete VMware Multi-Cloud Portfolio
VMware Cloud providers and Managed Service Providers (MSPs) are trusted advisors for customers that need expertise and guidance navigating their multi-cloud journey. New cloud services make it easier for these partners to deliver and customers to consume VMware's expanding portfolio of multi-cloud services.