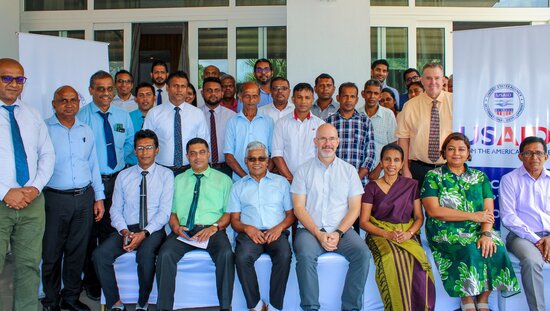 USAID-Alliance Finance Partnership to Promote Climate Proofing Investments in Agriculture Value Chains in Sri Lanka
The U.S. Agency for International Development's (USAID) Climate Adaptation Project and Alliance Finance Company PLC have partnered to promote climate-proofing investments in three key value chains in Sri Lanka: tea, cinnamon, and dairy.
The initiative will strengthen Alliance Finance's agri-lending portfolio and support adaptation interventions, such as assessing climate risks and the vulnerabilities of different value chains, and adopting potential adaptation solutions. The partnership will improve knowledge of climate adaptation solutions for future borrowers of Alliance Finance agri-loans and build the capacity of one of Sri Lanka's leading financial institutions, Alliance Finance, to influence climate-proofing lending programs nationally.
"Under this partnership, Alliance Finance expects to support climate-proofing investments by dedicating 20 percent of its agri-loan portfolio for implementation of climate adaptation interventions," said Romani de Silva, Deputy Chairman/Managing Director of Alliance Finance. "This partnership with USAID will also build our staff's capacity to advise and assist vulnerable borrowers on solutions to improve their climate resilience, in return reducing their financial risks."  
"USAID is proud to partner with Alliance Finance to invest in climate adaptation strategies" said Mark Peters – USAID's Economic Growth Advisor for Sri Lanka. "We believe private sector institutions, like Alliance Finance, can build on the successes of these interventions to educate future borrowers and invest in other value chain actors in the future. This partnership is a perfect example of the broader partnership that the United States and Sri Lanka have had for the past 75 years."
Alliance Finance Company PLC is a local financial institution committed to providing sustainable financing for individuals, microentrepreneurs, and small and medium enterprises in Sri Lanka. Dedicated to sustainable development, Alliance Finance strives to contribute to national and global sustainability priorities.
USAID's five-year Climate Adaptation Project (2021-2026) for Sri Lanka and Maldives enhances the capacities of the government, private sector, and local communities to respond and adapt to climate change in ways that contribute to sustained and inclusive market-based growth approaches in agriculture, fisheries, and tourism.
ENDS
Image Caption- USAID and Alliance Finance representatives with participants