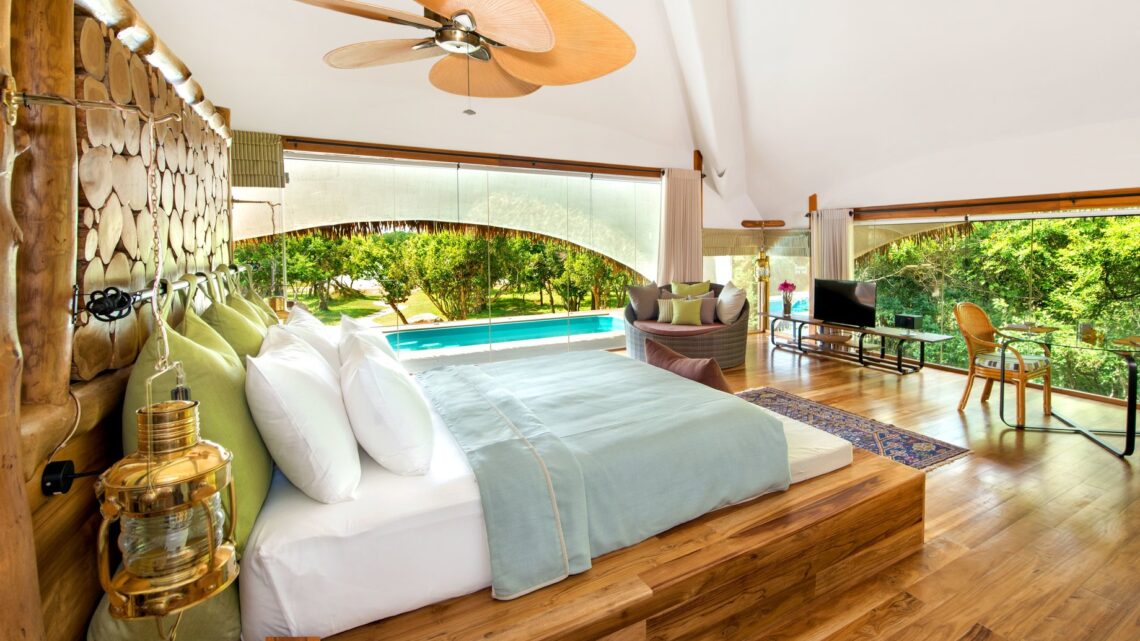 Uga Chena Huts, the 3rd Best Boutique Luxury Hotel in the World!
Uga Shines big at the Tripadvisor Travelers' Choice Best of the Best Awards 2020
The world's largest travel platform has picked a leading Sri Lankan hotel brand to reward in its latest 'world's top 25 boutique luxury hotel' awards. Uga Chena Huts, has won the latest international commendation, being acclaimed as one of the "Best of the Best Hotels" around the world by securing a commendable 3rd place among world's Top 25 Boutique Luxury Hotels, bringing travel fame to the island nation.
Uga Chena Huts, that already has a track record for winning prominent awards such as 14th place among Asia's Top 25 Small Hotels, 5th place among Asia's Top 25 Luxury Hotels, 15th place among Asia's Top 25 Hotels for Romance and 10th place among Asia's Top 25 Luxury Hotels, is owned by Uga escapes, one of Sri Lanka's prestigious hospitality groups duly recognized by previous editions of Tripadvisors Traveler's Choice Awards as well.
Sharing his thoughts, Priyanjith Weerasooria, Managing Director – Uga Escapes Management (pvt) Ltd., commented, "We are extremely delighted of these awards. To have been recognized by world's largest travel platform TripAdvisor as the 3rd best boutique luxury hotel in the world is no less than a triumph for Uga Chena Huts. This achievement is a testament to the fact that we have prioritized customer satisfaction and above all, provided them a unique eco-retreat among one of the most scenic destinations in Sri Lanka."
Tripadvisor is the world's largest online travel platform. 463 million travelers in 49 markets and 28 languages seek assistance from Tripadvisor each month. Traveler's Choice by Tripadvisor is a coveted awards ceremony that celebrates world's favorite hotels, restaurants and guides traveler's to world's most sought-after destinations.
Situated in the picturesque surroundings of Yala, Uga Chena Huts consists of 14 luxurious cabins in a 7-acre land accommodated by individual plunge pools in each cabin. These lavish cabins pack spacious living areas, cozy bedrooms, private bathrooms and modern amenities such as twin vanity controls, shaded outdoor decks with built-in private 5m plunge pools.
The travelers to Uga Chena Huts walk in to an array of exotic wild life in Yala nature reserve and a variety of indulgent treats including spas, beach outings, outdoor pools and many more. The huts are enveloped in natural surroundings, entertaining the travelers to a tranquil, eco-accommodation experiences. In addition to the famous safari rides escorted by experienced rangers, travelers can also experience leading travel destinations close-by such as Great Basses Reefs, Bundala sanctuary, Kataragama temple premises and many more.
Uga Escapes owned by Finco Grop has pioneered the boutique hotel concept preserving natural splendor and indigenous culture to provide a unique accommodation experience. Uga Escapes hotels comprise of Ulagalla in Anuradhapura, Jungle Beach in Trincomalee, Uga Bay in Passikudah, Uga Chena Huts in Yala and Uga Residence in Colombo. Uga's parent, Finco Grop comprises of many companies in the fields of manufacturing, leisure, consultancy services and automation and IT.