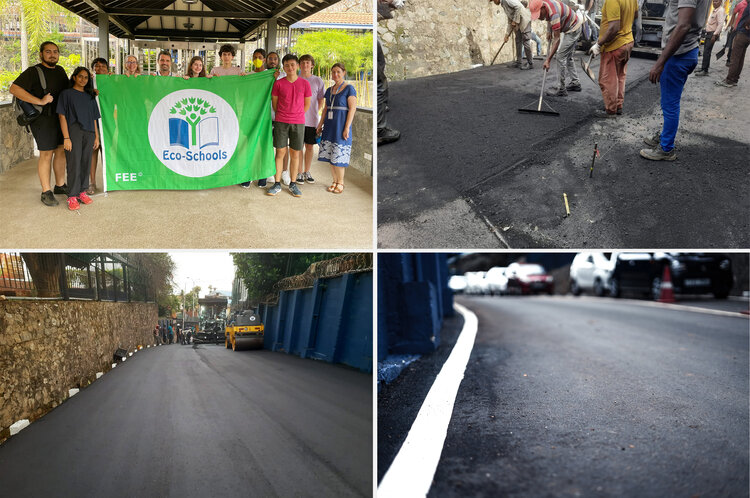 The Overseas School of Colombo Ties-up With AGC Innovate to Pave Sustainable Internal School Driveway
The Overseas School of Colombo (OSC) is the benchmark institution in Sri Lanka for academic finesse, holistic experiential learning, embodying diversity and inclusivity, and also for spearheading sustainable, eco-friendly initiatives. OSC, true to its motto 'Unity in Diversity', is the oldest international education institution established in 1957, and the only IB World School in Sri Lanka.
The Overseas School of Colombo was the first ever school in Sri Lanka to receive the Eco-Schools Green Flag Award. The Green Flag Award is bestowed by the Foundation for Environmental Education (FEE) to schools having made measurable progress in environmental sustainability. OSC achieved this milestone award in December 2022.
In keeping with the school's trajectory of addressing environmentally sustainable goals, OSC partnered with AGC Innovate (Pvt) Ltd., a pioneer and innovator to develop yet another sustainable solution that would benefit the school, its community and environment.
AGC Innovate (Pvt) Ltd. is the first eco-friendly company to espouse green technology to provide waste plastic solutions in the country. AGC Innovate has obtained all the necessary domestic certifications from the Central Environmental Authority and the Road Development Authority to facilitate solutions for roads, parking spaces and paving areas. PMAC technology is utilised by AGC Innovate having obtained patents from the National Intellectual Property Office of Sri Lanka.
In fact, AGC Innovate (Pvt) Ltd. triumphed, winning the award for Best Start-up in 2022 at the Innovate Lanka 2022 Competition organised by the Lankan Angel Network, SLASSCOM and the Council for Start-ups.
It is estimated that 1.59 million tonnes of plastic waste are mismanaged in Sri Lanka annually. A large portion of this plastic waste ends up in rivers, canals and the ocean, endangering marine life and destroying ecosystems. Plastics include consumables like plastic bags, straws, cups, bottles etc., which are thrown away after being used just once, referred to as single-use plastics.
AGC Innovate, having observed the damaging effects of plastic waste on ecosystems and wildlife, embarked on offering science and research-based solutions to tackle the issue in a systematic manner.
As part of their major endeavour in developing sustainable solutions for plastic waste is the introduction of the technology – Plastic Modified Asphalt Concrete (PMAC) for roads, parking and paving areas in developing infrastructure.
PMAC technology has been tried, tested and proven to be more durable than conventional asphalt, and is now used to pave roads, driveways, car parks, freight marshalling yards, and other paving areas.
AGC Innovate kickstarted their venture with a pilot project in 2018 paving a 500 m stretch of the Ratmalana – Borupana road under the rigorous monitoring and testing by the Road Development Authority of Sri Lanka (RDA) for strength and durability.
AGC has successfully executed over 20 diverse projects, ranging from the provision of PMAC laying solutions for multiple Cargills Food City car park projects; for John Keells – including Crescat Boulevard's car park and internal road, Cinnamon Life (Glennie Street) and South Asia Gateway Terminals (SAGT); CBL's car park in Ranala, the French Embassy car park, Indonesian Embassy entranceway roads, Meegoda and Gampaha PRDA projects, and a significant 2-kilometer road project in Trincomalee and Ampara.
The unique aspect of this PMAC technology is that AGC Innovate (Pvt) Ltd. is dedicated to utilising non-recyclable plastics, such as polythene, shopping bags and lunch sheets, which typically lack economic value through recycling or upcycling processes. Circularity is embedded in this solution since the waste plastics used to manufacture the PMAC to lay roads or parking areas, will be collected from within the region, quintessentially from private organisations, local authorities and provincial landfill sites themselves.
Apart from PMAC technology, utilising cutting-edge R&D systems, AGC Innovate has also managed to create other sustainable solutions such as bio-degradable fibre bags and wrapping material. AGC Innovate is also in the process of developing durable plastic modified paving blocks to be used for paving projects.
Crishan Fernando, Head of Facilities and Maintenance at The Overseas School of Colombo remarked: "OSC is the first school to achieve the Eco-Schools Green Flag Award. We have always been keen to adopt sustainable solutions within the school to inspire our own youngsters, our community and other schools. OSC is proud to have partnered with AGC Innovate as a revolutionary company having taken steps to offer innovative solutions utilising green technology to tackle the waste plastic issue in the country. We must encourage other schools and the corporate sector to adopt more environmentally friendly solutions."
OSC is the first school AGC Innovate has worked with. 250 kilogrammes of plastic waste were utilised to pave OSC's internal school driveway to the gymnasium with the PMAC laying method. The road is more durable and steadfast as a result.
AGC Innovate (Pvt) Ltd. is a company that's truly one of a kind, paving the way for a sustainable future.
The Overseas School of Colombo continues to pave the highest standards of all-round finesse by embracing sustainability to be an inspiration to others.
Did you know that 1 km of PMAC paved road utilises 3 tonnes of waste plastic, which is the equivalent of 800,000 bags?
Sri Lanka finally has a solution to stop pollution thanks to AGC Innovate, and OSC proudly and loudly advocates the initiative for a better, brighter and cleaner tomorrow.