The British Council in partnership with HSBC, launches The English Communication Skills for Remote Delivery project
The English Communication Skills for Remote Delivery Project funded by HSBC and managed by the British Council was launched on the 21st of March 2022. This nine month-long project is to be delivered across the island, targeting English language secondary teachers and Regional English Support Centre mentors. The end objective is for the trained teachers and teacher educators to improve their performance and achieve better results from their students in schools.
Mark Surgenor, CEO of HSBC Sri Lanka and Maldives commented, "We are happy that our longstanding partnership with the British Council has opened yet another opportunity for us to be able to expand HSBC's Future Skills programme across the country and equip 248 teachers and 19,000 students with English language skills that will help their future. Our purpose as the leading international bank in the country, is to open up a world of opportunities for people and our communities. As we celebrate our 130th anniversary in Sri Lanka, this year we believe that through this programme, we will potentially increase the chances of youth employment locally, help them to secure better prospects for employment overseas, while also helping to fulfill the future ambitions of young Sri Lankans for years to come."
The findings of a recent study conducted by the British Council demonstrated that only 50% of grade 11 students, achieved A1 and a mere 30% achieved A2 when tested on the English language, both correspond to Basic User levels on the Common European Framework of Reference (CEFR). It also revealed that students performed worst in the productive skills of speaking and listening. The rural areas performed significantly worse than the urban areas showing the greater need for English language capacity building in those areas.
Under the new National Education Reforms, the Ministry of Education's (MoE)ambition is for pupils to exit school with a B1 (Independent User) on the CEFR, and communication skills are a high priority. Good communication skills are even more critical when pursuing employment opportunities after students leave school. In this regard, it's encouraging to see schools making significant progress in the development and assessment aspects of English communication skills. Schools have now started assessing speaking and listening skills in end-of-term tests. This has had a washback effect on English teachers prioritising listening and speaking skills. The MoE ambition is to introduce listening and speaking into the Ordinary and Advance level English exams, therefore more emphasis needs to be placed on developing and assessing them. While the current school textbooks cover listening and speaking, they require adaptation to produce solid lessons based on those skills. Good materials and showcasing best practices in developing and assessing listening and speaking skills are key to progress.
Through this project, English language teachers in the more rural areas of the country will be selected for the course by British Council consultants. They will be assessed on their language and their classroom practice at the beginning of the project. They will receive training in both developing and assessing listening and speaking skills and in how to best leverage the current textbooks for these skills. The materials aim to enhance the teachers' ability to develop and assess the listening and speaking skills of their pupils and to better exploit their textbooks for this purpose.
Director of English and Foreign Languages Branch of the Ministry of Education, Mrs. Maheshi Weerasuriya, commended both the British Council and HSBC for initiating the program, which will result in a positive outcome for both teachers and students.
The 31 Regional English Support Centres which support English language teachers in remote areas islandwide, will support the teachers' learning and use of learning. The use of learning will be seen through two main techniques: portfolio and classroom observation. Using the latest technology for classroom observations, mentors will observe their teachers three times during the project. Their portfolio is the link between the course materials and their classroom practice and will evidence this. At the end of the course, teachers will be assessed again on their language and on their classroom practice. APTIS for teachers will be used to assess their language and this will give each teacher an internationally benchmarked certificate. An awards ceremony will be held for the teachers and their mentors to recognize and reward after which an impact evaluation will take place three months after the courses are complete.
Commenting on the launch of the project, The British Council Sri Lanka Country Director Maarya Rehman said, 'We are really happy to have launched The English Communication Skills project and work closely with the Ministry of Education to assess and improve the quality of teaching and learning in schools. Our approach develops teachers at scale and in challenging circumstances, by integrating technology in teaching and learning, which we spearheaded over the pandemic period and has proven useful for sustainable teacher development. Whilst congratulating everyone involved in this project, and thanking HSBC for partnering with us, as a cultural relations organisation, we believe that competence in and use of the English language is an essential skill in enhancing life opportunities and key to inculcating cohesion between and within societies.'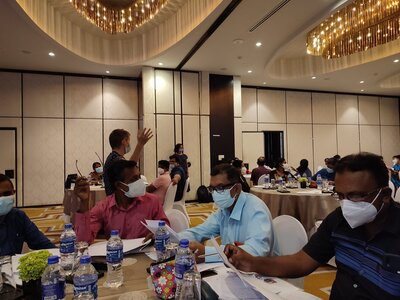 About the British Council
The British Council is the UK's international organisation for cultural relations and educational opportunities. We build connections, understanding and trust between people in the UK and other countries through arts and culture, education and the English language. Last year we reached over 67 million people directly and 745 million people overall including online, and through broadcasts and publications. Founded in 1934 we are a UK charity governed by Royal Charter and a UK public body. We receive a 15 per cent core funding grant from the UK government.
#ENDS#