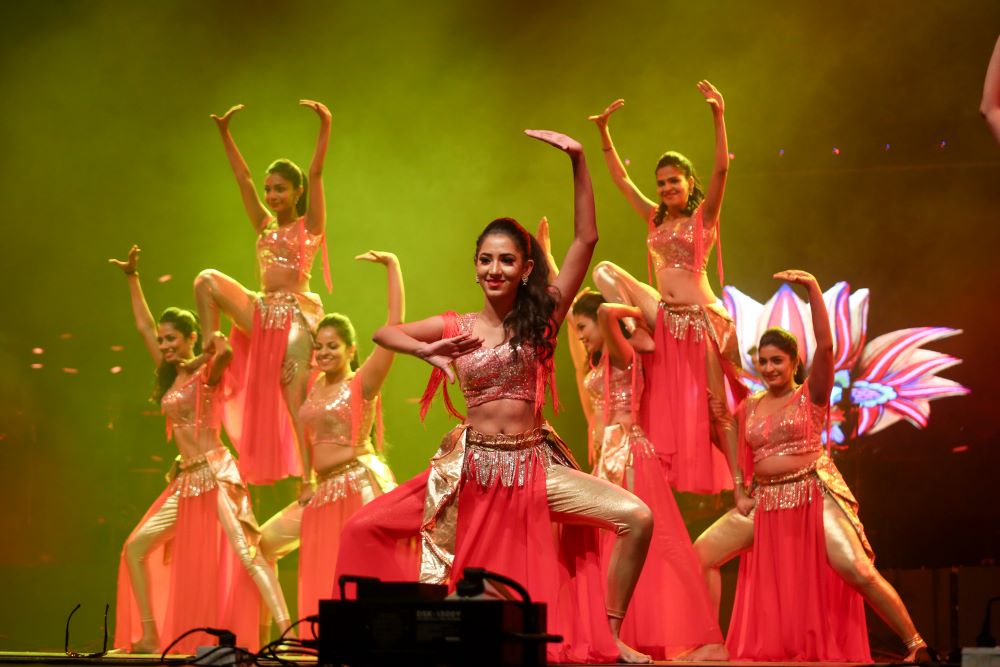 Students of IIT dazzle with Talents at Stage Craft 2020 held at Nelum Pokuna
Informatics Institute of Technology (IIT), the pioneer in British higher education in Sri Lanka and the country's premier IT and Business campus, successfully organised Stage Craft 2020, the latest edition of the highly-anticipated annual talent show put together by the Students Union of IIT.
Stage Craft 2020 was held at the Nelum Pokuna Mahinda Rajapaksa Theatre under the theme "Element of Ingenuity" amidst a packed audience of IIT students, parents, IIT alumni and well-wishers. The Chief Guest at the event was popular music artist Bathiya Jayakody, while Umara Sinhawansa and Billy Fernando, also popular recording artists of the industry, attended as the Guests of Honor. Dr. Gamini Wickramasinghe – Founder and Chairman of the Informatics Group, Kishani Perera- Director Informatics Group, Professor Jayantha Wijeyaratne – Director IIT, Naomi Krishnarajah – Dean of IIT and members of IIT staff also attended the event.
Held in a profoundly festive manner this year, Stage Craft is the most celebrated annual event of IIT and is entirely organized and managed by the students union of IIT with the supervision of academic and non-academic staff. It is a night of enthralling entertainment as the students come up with breathtaking performances in their attempts to outshine each other while showcasing their hidden talents in song, dance, music and drama. The distinguished panel of judges who are popular personalities in the entertainment industry, Nadeeka Guruge, Aseka Wijewardene and Umara Sinhawansa evaluated each and every performance and provided their views in terms of originality, diligence and overall performance. The audience was also treated to an inspirational speech by music superstar Bathiya Jayakody as well as a spectacular guest performance duet by Billy and Umara.
Popular singing sensation Bathiya Jayakody proceeded to enlighten the audience with an inspirational speech on his own journey as a graduate of IIT. "I'm deeply honored to have been invited for IIT Stage Craft as the guest of honor as a past student of and a member of the IIT Alumni. It's great to see how IIT has expanded and is offering education opportunities to many students across the nation. I thank IIT for grooming me throughout four years and I thank all our teachers and professors that helped the institute and its students to reach to where they are today," he stated.
As the evening drew to a close, the overall winners of IIT Stage Craft 2020 were announced and presented with their respective awards and prizes. The winners were: Solo Singing – Shohan Mark, Group Singing – Pullingo, Solo Dancing – Rashmi Rathnayake, Group Dancing – Naach, Band – Rugrats, Most Popular Performance Award – Nuwin Godakanda Arachchi, Best Performer- Dillon Lakshman and Best Performance- Rugrats.
Informatics Institute of Technology is in the process of celebrating its 30th anniversary this year, with the vision of utilizing the best practices and measures in delivering superior education to students, and continuing to improve and maintain the highest quality in the services provided and the courses delivered to students.
Professor Jayantha Wijeyaratne – Director IIT shared his thoughts, stating, "For students, IIT life is not simply about attending lectures and excelling in studies. We have always nurtured an environment where they are given ample opportunities and freedom to pursue extra-curricular activities. This helps them to learn new skills or enhance their existing ones by pursuing their passions in sports, arts or any other activity, thereby creating well-rounded individuals who are ready to take on the challenges in life. By organising this highly-successful Stage Craft 2020 on their own, these students have demonstrated important skills such as teamwork, dedication, leadership and project management. They have certainly impressed everyone by putting together such a grand event while the enthusiasm shown by the competitors was outstanding."
IIT was established in 1990 as the first private higher education institute that awards reputed British degrees in the field of ICT and Business. IIT is an award-winning campus offering internal postgraduate and undergraduate degrees from the University of Westminster, UK and Robert Gordon University, UK. IIT has played a pivotal role in strengthening the IT and Business sectors in Sri Lanka over the years by producing world-class graduates. Since its inception in 1990, IIT has produced thousands of graduates that are now based in 25 countries. These graduates have gone on to become successful entrepreneurs and IT/Business professionals in both local and international corporate and government entities. They have played a pivotal role in empowering over 250 multinational and local blue-chip companies by holding key strategic positions while contributing immensely towards the growth of their respective organizations.