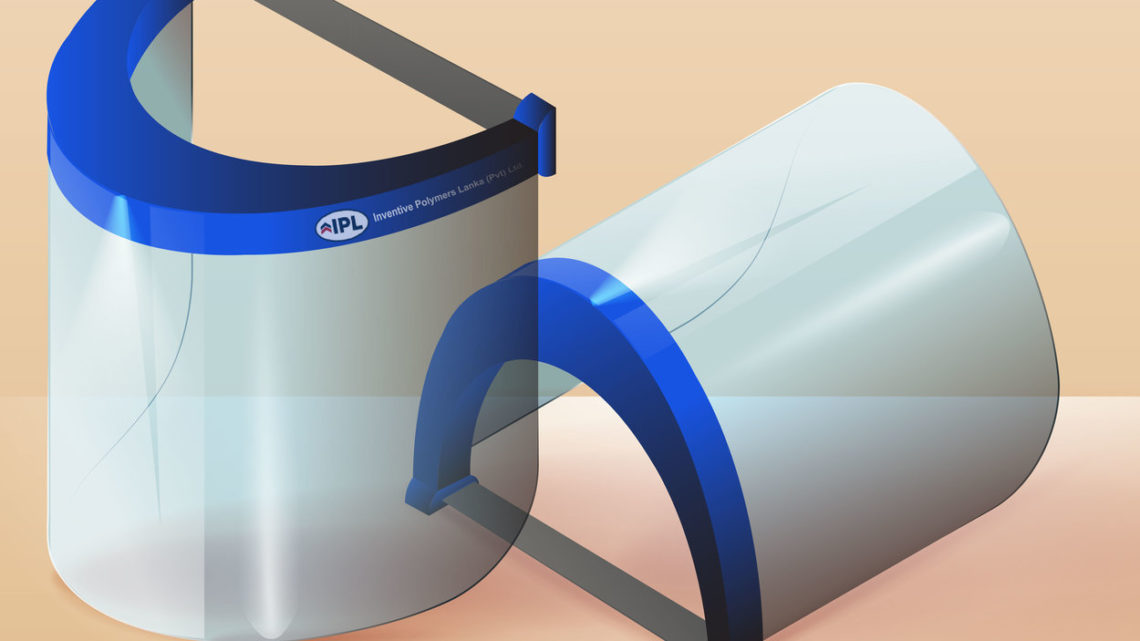 Stafford Group's IPL brings in industry leading re-usable face-shields
the benefit of using a face shield as personal protective gears
As Sri Lanka restarted the normal work culture, post the COVID19 lockdown, there has been an ongoing dialogue on the need to wear a mask and some healthcare professionals have even recommended cloth face coverings/masks as an alternative to standard surgical masks as those tends to be hot and irritating the skin specially in a humid climate such as Sri Lanka's.
In addition, it has been observed that many individuals tend to wear masks incorrectly, letting them dangle off the tips of their noses, or concealing just their mouths. People also tend to readjust face masks frequently, or remove them to communicate with others, which increases their risk of being exposed or infecting others. While cloth masks can reduce the risk of people spreading germs to others, they do not fully protect the wearer from germs. As such, the use of re-usable face shields have been pointed as a positive alternative by industry experts around the world.
According to James Cherry, M.D., a distinguished research professor and infectious disease expert at the David Geffen School of Medicine at UCLA, United States of America, while experts aren't yet sure about how vulnerable our eyes are to infection from this coronavirus, "With many viruses, the eyes are important." He points to measles and adenoviruses as examples of viruses that are known to infect people through their eyes.(https://www.aarp.org/health/healthy-living/info-2020/shields-compared-to-masks.html)
Face shields have long been required personal protection equipment for many procedures in hospitals around the world, Doctors and nurses wear them during surgeries that may cause blood and bone fragments to fly out. As such, this is a PPE that can be utilized amongst personnel of many industries who may require to speak out and utilize facial expressions during their, work.i.e. teachers at schools.
Face shields should be the preferred personal protective equipment of everyone for the same reason health care workers use them. As face shields can protect the entire face, including the eyes and nose, it helps prevent people from touching their faces or inadvertently exposing themselves to the coronavirus. It also can be easier to wear than a mask, as it is wrapped around a small portion of a person's forehead, with lesser urge to itch and scratch than masks, in longer periods of usage.
As such it is important to use the correct type of re-usable face shields and IPL (Inventive Polymers Lanka Ltd), a subsidiary of Stafford Group designed and locally manufactured a re-usable face shield, which is now the most preferred face shield in Sri Lanka among doctors, dentists, nurses, Police & PHI officers, front line staff of companies and many others.
The re-usable Protective Face Shields manufactured by IPL, have been produced in accordance with the WHO standards. The face shield consists of a light weight, rigid head band made of 0.5mm polypropylene, uniquely designed to fit the forehead and maintain a good distance with the visor and the nose to reduce fogging. The transparent visor is made from polycarbonate which is a strong, highly durable, easy to clean material. The light transmission through Polycarbonate is around 90% and as a result gives much better clarity as opposed to a PVC/PET viso. The face shields are available for purchase at a reasonable price of Rs.750.00 in leading pharmacies.