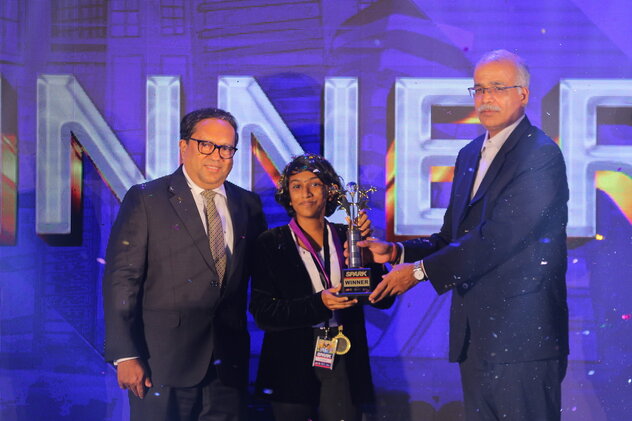 SPARK 2023 Grand Finale Ignites Entrepreneurial Spirit Among Sri Lanka's Youth
The Ceylon Chamber of Commerce and the International Labour Organization join forces to promote youth entrepreneurship in Sri Lanka
'SPARK'- a national competition for Sri Lanka's next generation of entrepreneurs celebrated the grand finale on 21st August, coinciding with World Entrepreneurship Day. The much-awaited event saw the country's most promising innovators, problem solvers, thinkers, and creators aged 15-24 showcase their transformative ideas and vie for the SPARK 2023 Award.
Mihindi Minupama Bandara, the winner of SPARK 2023, expressing her thoughts said 'I'm really excited and honoured about winning the SPARK competition. It gives young entrepreneurs like me a platform to share our ideas, receive guidance, improve our skills, and learn so much! I want to thank the organizers for this opportunity, and look forward to more events like this in the future'
With over 400 applications received from across the country, the top 5 contestants pitched their business ideas to a panel of judges made up of Ms. Deepa Liyanage, Additional Secretary to the Prime Minister, Dr Gehan de Soysa, Chairman and CEO – ThreadWorks, Ms. Kasturi Chellaraja Wilson, Group CEO / Executive Director – Hemas Holdings PLC, Prof. Kalingamudali, Dean, Faculty of Science, University of Kelaniya, Mr. Samantha Ranatunga · Director / CEO – Remedium One, Prof. Wanninayake, Dean, Faculty of Commerce and Management Studies, University of Kelaniya, and Ms. Rakshieka Nedumaran – Specialist, Sustainability Execution) Dialog Axiata PLC.
Implemented in partnership with several ecosystem players, setting SPARK apart from other competitions is its focus on connecting with youth from school level, as well as commitment to fostering participants' growth and entrepreneurial mindset. Leading up to the finale, SPARK engaged with the initial cohort of 100 plus shortlisted contestants through a series of virtual training sessions. This was followed by an intensive 2-day residential bootcamp for the top 35 contestants.
'Going beyond celebrating Sri Lanka's youth entrepreneurs, SPARK aims to create a shift in the entrepreneurial ecosystem, through the competition, by establishing entrepreneurial clubs in schools, and creating a pool of mentors and trainers. It's a ripple effect that we hope will contribute to transformation amongst youth, educators, parents, policy makers, and private sector to see entrepreneurship as a viable career option, and entrepreneurial skills as essential for the advancement of our youth, and for Sri Lanka,' said Thomas Kring, Chief Technical Advisor, ILO Country Office for Sri Lanka and the Maldives.
The Chairman of The Ceylon Chamber of Commerce, Duminda Hulangamuwa said 'the SPARK competition has provided a platform for youth entrepreneurship and innovation and created an ecosystem of support that will continue to thrive beyond this event. The Ceylon Chamber is committed to establishing SPARK as an annual event, ensuring that our nation's aspiring young entrepreneurs have a platform to shine, grow, and succeed.
Entrepreneurship disrupts the status-quo, injecting new thinking, pre-empting solutions, and paving the way for constant change. When combined with the creativity, drive, and skills of young people, it creates a formidable force that can pave the way for a better future.
The SPARK: Youth Entrepreneurship Competition 2023 is an initiative of the ILO's South Asia Leadership in Entrepreneurship (SALE) programme, of which the Ceylon Chamber is the implementing partner. Through strategic interventions such as SPARK, ILO's SALE programme, funded by the U.S Department of State is endeavouring to boost young people's transition into the entrepreneurial world and create a shift in the entrepreneurial ecosystems.
ENDS
Photo Caption- Winner of the SPARK Youth Entrepreneurship Competition 2023 Mihindi Minupama Bandara receiving her Award from ILO and CCC representatives