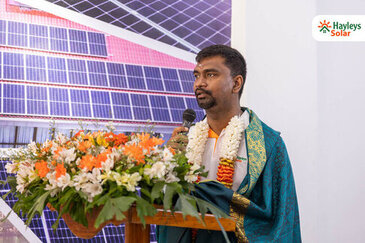 Solar Giant Expands its Presence in Jaffna
Hayleys Solar, the renewable energy arm of Hayleys Fentons, expands its horizons to make solar energy accessible from the south to north of the nation with its recent strategic launch in Jaffna.
The newly established Experience Centre, situated at No 148 -1/1, Palali Road in Jaffna, represents a significant stride in making solar energy accessible to the local population. This centre offers a comprehensive range of world-class solar solutions, including rooftop PV systems, batteries, and inverters, alongside live demonstrations of Solar-powered Water Pumps, Lighting systems and Solar Power Systems. These engaging demonstrations are designed to inspire individuals to adopt clean energy solutions and contribute to a more sustainable future.
The decision to expand Hayleys Solar to Jaffna, following the successful launch in Matara, is driven by the commitment to broad-reaching social impact. By establishing a presence in both the southern and northern regions of Sri Lanka, Hayleys Solar aims to address the energy needs of diverse communities.
Hasith Prematillake, the Managing Director of Hayleys Fentons, said "This expansion marks a significant step towards our mission of making sustainable solar energy accessible to communities across Sri Lanka, and catalyze economic growth and social development in these areas.
"With its abundant sunshine, Jaffna holds much potential for economic growth especially for agriculture, fisheries, and trade which will vastly benefit from being self-sufficient in energy. Solar power can play a vital role in rural electrification by providing access to electricity in remote and off-grid locations where extending traditional grid infrastructure may be cost-prohibitive."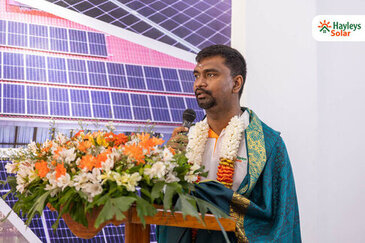 Adding to that, Roshane Perera, the Executive Director/CEO of Hayleys Solar stated, "Jaffna's domestic rooftops receive ample solar irradiation, surpassing threshold values, and we believe this renewable energy source should not go to waste. We are also proud to introduce the other solar technologies to Jaffna, including Solar-Powered Water Pumps for Agriculture.
"We invite the public to meet our friendly local staff at our Centre, conveniently situated near the sacred Nallur Kovil. We are ready to listen to you and identify your specific energy requirements to serve you better. We have already established our presence significantly by carrying out key projects at prominent locations in Jaffna including a world renowned Kovil, Henry College and JetLanka."
As part of its ongoing commitment to community engagement, the Hayleys Solar team actively participated in events like the Jaffna Nallur Festival, Jaffna International Trade fair and Jaffna Housing and Construction Exhibition where live demonstrations of the solar-powered water pumps were showcased.
About Hayleys Solar
With its steadfast mission of establishing Green Experience Centres island-wide over the next few months, Hayleys Solar will empower accessibility and affordability of solar power across all sectors of society, championing sustainable development as a testament to their unwavering dedication towards forging a cleaner and more sustainable future. Hayleys Solar has successfully completed over 140MW of solar installations island-wide making it the undisputed leader in Engineering, Procurement, and Construction (EPC) company in Sri Lanka.
ENDS