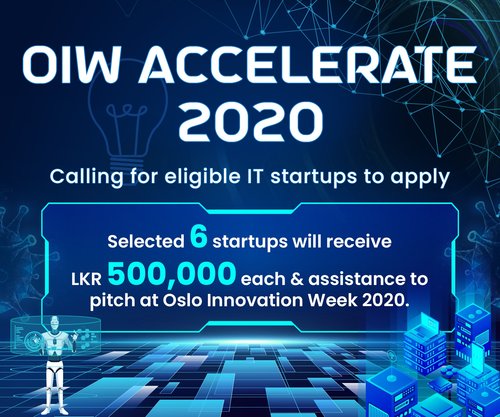 SLASSCOM boosts Start-ups with OIW Accelerate 2020 program
The Sri Lanka Association for Software Services Companies (SLASSCOM), which is the national chamber for the IT/BPM industry in Sri Lanka, under the patronage of the Royal Norwegian Embassy in Sri Lanka, is hosting Oslo Innovation Week Accelerate 2020 (OIW Accelerate 2020) – a competition to promote Sri Lankan Tech Start-Ups through cash grants of LKR 500,000/- and international exposure at Oslo Innovation Week 2020 (OIW 2020). The competition aims to encourage and identify start-ups with innovative products and services that can help fight COVID-19 and address social issues that may arise as a result of the pandemic. The initiative also aims to create awareness about the UN17 Sustainable Development Goals and support tech start-ups to align themselves with these goals.
Speaking about the initiative, Anura De Alwis – Director at SLASSCOM said, "Through OIW Accelerate 2020, we want to inspire Sri Lankan start-ups to solve the pressing issues of the day through innovation and the use of digital technology. We also want to encourage entrepreneurship in Sri Lanka and knowledge sharing on a global level, because it is only through collaboration that humanity can emerge victorious against COVID-19. The IT/BPM sector in Sri Lanka is brimming with talent and capability but many are held back to due to a lack of opportunity and encouragement. OIW Accelerate 2020 will work to identify projects with the best potential and provide support, financially and morally, to help these ideas change the world. We take this opportunity to express our gratitude to the Royal Norwegian Embassy of Sri Lanka for sponsoring this project and for all the support they have rendered to us. We welcome and invite all Sri Lankan start-ups to actively compete for what is an excellent opportunity to make a big break and expand their horizons."
OIW Accelerate 2020 is open to all ICT start-ups who have registered businesses in Sri Lanka within the last 5 years or those who have been listed as start-ups on the "StartupSL" website. Each entrant must have a product or service that has already been developed to at least a basic prototype stage. This product or service must directly involve fighting COVID-19 or addressing social issues arising around it, while preferably aligning with at least one of the UN17 Sustainable Development goals and focusing on one of five areas of expertise including Ocean, Healthcare, Energy, FemTech and Smart Cities.
All entries received for OIW Accelerate 2020 will be considered by an expert panel of judges comprising of local and foreign specialists from diverse fields in business and IT. Six winners will be chosen, based on the merits of their proposed solutions, and each winner will receive a cash grant worth LKR 500,000/- along with assistance, guidance and mentorship to successfully pitch their product/service at OIW 2020 and assistance to participate in OIW 2020. Given the present global climate, Oslo Innovation Week 2020 will be a virtual event this year, increasing accessibility and visibility. Entries will close on August 12th and the winners will be announced after August 20th.
To get more details on guidelines, eligibility and to apply go to https://bit.ly/oiwaccelerate2020
SLASSCOM is the national chamber for the IT/BPM industry in Sri Lanka and acts as the catalyst of growth for the Sri Lankan IT and BPM industry by facilitating trade and business, propagation of education and employment, encouraging research and innovation, and by supporting the creation of a forward thinking and progressive national policy framework. Member organisations of SLASSCOM account for approximately 90% of the IT/BPM industry export revenue.