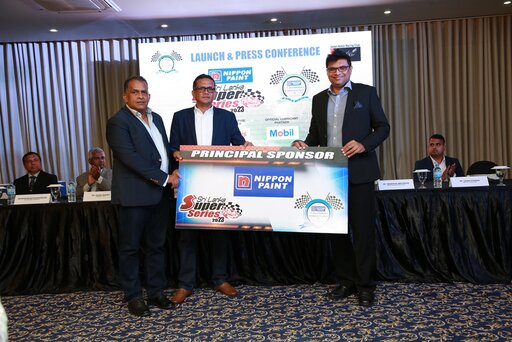 SLARDAR Set to Relaunch Sri Lanka Super Series and Develop State-of-the-Art Racing Arena
The Sri Lanka Association of Racing Drivers & Riders (SLARDAR), the premier Motor Racing Club in Sri Lanka and Asian Motor Racing Club (AMRC), launch the 'Sri Lanka Super Series 2023' in partnership with Principal Sponsor Nippon Paints, Official Tyre Partner, Maxxis Tyres and Official Lubricant Partner Mobil. This is the first of such racing events hosted by SLARDAR after a hiatus of three years, due to the COVID-19 pandemic, and the prevailing economic down fall. This year, SLARDAR decided to take steps to slowly restart activities to benefits both competitors and fans, starting with the' Sri Lanka Super Series 2023'.
In collaboration with the Asian Motor Racing Club (AMRC), SLARDAR launched the 'Sri Lanka Super Series' back in 2017. This championship is unique as it is the only one to have ever presented its champions with brand new cars and motorcycles. In previous years, the SLARDAR played a pivotal role in creating and introducing nearly all the gravel tracks in the country, including Fox Hill Super Cross, Gajaba SC, Gunners SC, Sigiriya Rally Cross, Commando Super Cross, and Colombo Super Cross.
Additionally, at a juncture where the future of Motor Sports in Sri Lanka is questionable due to a lack of proper facilities, the SLARDAR has joined forces with Wijerathne Engineering (Pvt) Ltd. to develop the 'Nippon Mahameruwa Racing Arena by SLARDAR'. The arena will be suitable for both cars and motorcycles and will feature a plethora of facilities including a Restaurant Area, a Swimming Pool, Training & Briefing Rooms, Accommodation for over 100 People, an ATV Track, a 4×4 Challenge Track, an Out Bound Training facility and more.
The arena will also serve as a testing ground for racing cars & motorcycles, and as a driver & rider training facility as well. Trusting the credibility of the SLARDAR, Nippon Paints has stepped forward as the Principal Sponsor for the facility along with Official Tyre partner, Maxxis Tyres. The 'Nippon Mahameruwa Racing Arena by SLARDAR', will be located in Nalla, Giriulla, in the North Western Province