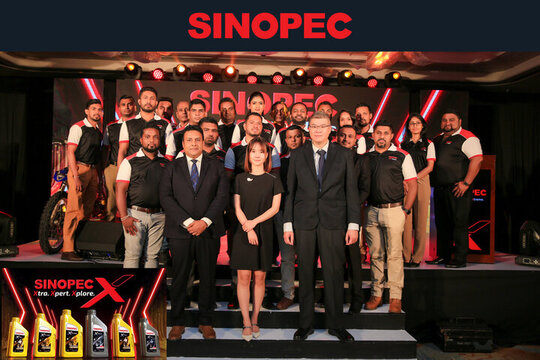 SINOPEC X series motorcycle lubricants to empower SL riders with enhanced performance.
With a promise of revving up performance for riders, Interocean Lubricants Pvt Ltd, recently introduced a new range of SINOPEC motorcycle lubricants to Sri Lanka.
This cutting-edge technology lubricant, Sinopec is to revolutionize the riding experience for motorcycle enthusiasts across Sri Lanka. Imported to Sri Lanka as finished and packed products, Sinopec X-series lubricant range is renowned worldwide as a premium range of lubricants.
Elaborating further on Sinopec Lubricants, Jayashantha Thotahewage, Chief Executive Officer, Interocean Lubricants said, "Interocean Lubricants is proud to introduce the new series of Sinopec Lubricants to the vibrant motorcycling community in Sri Lanka. Our aim is to provide Motorcycle riders with unmatchable lubrication solutions that optimize the performance of their motorcycles, delivering enhanced power and durability on the road throughout."
Designed to meet the specific demands of Sri Lankan riders, Sinopec Motorcycle Lubricant range, conforming to latest JASO MA 2 & MB standards, offers excellent protection against extreme temperatures and harsh riding conditions. Sri Lanka, as with the most Asian countries have a large rider population.  Sri Lankan market consists of both dry clutch system and wet clutch system motorcycles. Whether navigating on challenging terrains or cruising on long-distance journeys, riders can rely on the exceptional performance and reliability of Sinopec," Thotahewage added.
Sinopec Lubricant Company, China's second largest energy company, ranked 5th in the Fortune Global 500 companies was founded in 2002 in Beijing. As the largest high-tier lubricant manufacturer and marketer in China, Sinopec has an annual production capacity of over 1.46 million tons of packaged lubricants. The Sinopec product portfolio consists of engine oils, gear oils, hydraulic oils, greases, synthetic technology oils, automatic transmission oils and marine oils, Sinopec operates with five regional sales centres spread across China and several sales subsidiaries across the world. Further, 11 lube oil and grease blending and manufacturing branches are situated in China and one branch is situated in Singapore. Its independent R & D Centers are in Beijing and Shanghai, integrating functions of lubricant manufacturing, research, storage, transportation, sales, and service.
With their advanced formulations, Sinopec premium lubricant range enhances engine efficiency, reduces friction, and extends engine life, ensuring a smooth and powerful ride. Key features and benefits of Sinopec Motorcycle Lubricant range include:
Unmatched engine efficiency and power
Reduced friction and wear for prolonged engine life
Superior protection against high temperatures and extreme conditions
Optimal performance across various motorcycle types
Interocean Lubricants Ltd. has been operating as the National Nominee for Sinopec Lubricants in Sri Lanka and Maldives since 2011. During a recently held event at Shangri-la Hotel, Colombo, Interocean Lubricants celebrated the launch of new range of Sinopec Motorcycle Oils in the presence of its Dealers and Distributors, where the Company pledged to continue providing automotive products known for their commitment to excellence and innovation. With a passion for delivering superior quality and performance, Sinopec Lubricants will forge ahead, continuing to deliver cutting-edge technology solutions that meet the diverse needs of the automotive industry.
Interocean Lubricants Ltd. operates through its Distributors and Dealer network across the country.
END
Photo Captions:
(From Left to Right) – Front Row – Jayashantha Thotahewage – Cheif Executive Officer – IOL, General Manager for South Asia region Ms. Milky Zhang, Technical Support Manager Mr. Leonard Chuah.