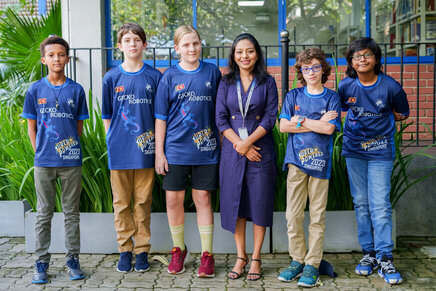 OSC Achieves Milestone as the First Sri Lankan School to Participate in the Global  FIRST LEGO League Challenge
The Overseas School of Colombo is a benchmark institution of academic finesse, renowned for progressive, holistic experiential learning. OSC has to its merit the status as the oldest international education institution established in 1957, to being the only IB World School in Sri Lanka. OSC is a learning hub composed of over 40 nationalities, maintaining a remarkable 100% pass rate each year. A pristine campus that has stayed true to its motto 'Unity in Diversity' in every sense. The school also holds the honour of being the only educational institution to represent Sri Lanka at the international FIRST LEGO League.
The Overseas School of Colombo has attained yet another milestone as the First Sri Lankan School to Participate in the Global FIRST LEGO League Challenge. The team is made complete by Eesa, Tyler, Finn, Reuban and Lynden who concur they had a blast, along with a life changing, learning experience by putting their skillsets, sense of teamwork, knowledge and innovative acuity to the test. The young team utilised modern advents of technology infused with innovative strategies to solve problems pertaining to sustainable energy sources. This year's challenge was the theme 'Sustainable Energy'.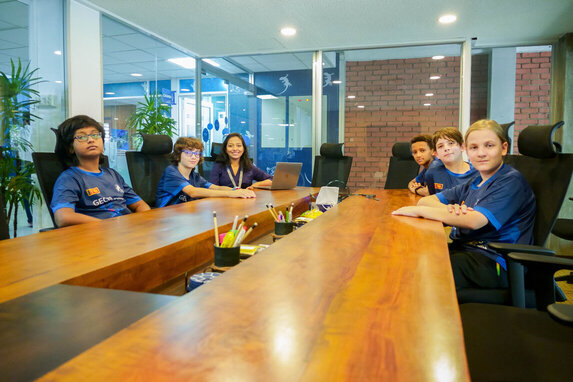 The FIRST LEGO League Challenge is an internationally acclaimed competition, located in over 110 countries around the world, organised by FIRST for elementary and middle school students from ages 4 – 16. Each year in August, FIRST LEGO League Challenge teams are introduced to scientific and real-world challenges. The focus being to encourage youngsters to embrace and intertwine engineering, research, math, science and technology to help develop real-world problem-solving skills. FIRST designs the challenge sets for each year, in coalition with LEGO Education. The goal of FIRST LEGO League is to inspire youth to experiment and explore critical thinking, coding and design capabilities and competencies through hands-on STEM learning and robotics.
"Teamwork is not just about working together, it's about understanding each other and their ideas in full." said Lynden, a team member from OSC's FIRST LEGO League team. "Participating in a FIRST LEGO League is not just about building robots, it's about building skills, friendships, and a passion for innovation that will last a lifetime." remarked Finn. It was clear as glass that their coach Mrs. Rangika Kuruppu was inundated with pride: "I would say that over the past 12 years of my career as an educator, being the robotics coach at OSC and taking part in FIRST LEGO League has been the most interesting project I've ever undertaken with my students."
LEGO MINDSTORMS Education EV3 Core Sets are hands-on, cross-curricular STEM solution sets that engage students by providing resources to design, build and programme their creations, while furthering essential skills such as creativity, collaboration, communication and critical thinking. The EV3 blocks are embedded with block-based coding, and the EV3 Intelligent Brick system which is a powerful and compact programmable computer that makes it possible to control motors and collect sensor feedback using the intuitive icon-based programming and data logging software that is delivered with the set. How the FIRST LEGO League Challenge separates and distinguishes itself from other programmes of its kind, is the embodiment of its core values: Discovery, Innovation, Impact, Inclusion, Teamwork and Fun – that friendly competition and mutual gain are not isolated goals, but rather that it is through integration and collaboration that teamwork is truly forged. FIRST LEGO League Challenge teams prepare all season from August to March, to compete at regional tournaments, where judges provide valuable feedback on every team's robot, code, and invention. During the preparation period the teams that will participate are given the challenge, and a specialised set with graphical interface and block-based coding to build a driver that is programmed to tackle mission strategy-based scenarios. The final test of their work comes at the Robot Game table, where they race against the clock for a personal best score, facing 14 missions, with an opportunity to solve as many missions as possible in a mind-boggling two minutes. The teams that solve the greatest number of missions and achieve the best score get a chance to advance to a local championship.
The OSC FIRST LEGO League team and coach all agreed that the camaraderie and close bond they now have thanks to working together, the experience of participating in a global challenge, and the lessons amassed along this incredible journey are in many ways more integral than just winning the competition.
Therefore, in that regard one can surmise that OSC's victory lies in its FIRST LEGO League team completing an unapparelled 'successful learning journey', bringing glory to their school, and to the country.