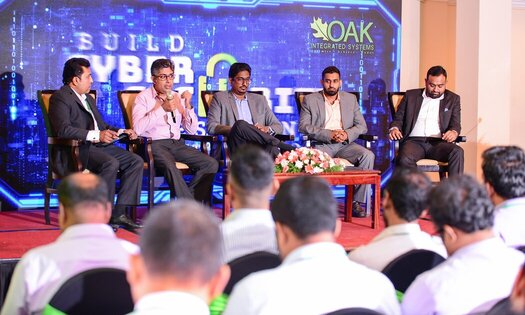 Oak Integrated Systems (Pvt) Ltd. discusses importance of Cyber Security & Resilience in Banking and Financial Sector
Oak Integrated Systems (Pvt) Ltd. recently held a forum under the theme 'Build Cyber Security & Resilience together with Oak'. The highlight of the event was a discussion with the distinguished panel which included Mr. Dilan Walgampaya, Cyber Security Consultant, Mr. Deenadayalan Nagaratnam, Cyber Security Consultant, Mr. Janindu de Silva, Vice President, Information Security – Nations Trust Bank, and Mr. Asela Waidyalankara, Cyber Security Advocate. The discussion was moderated by Mr. Nirodha Goonawardena, Head of Solution Sales at Oak Integrated Systems (Pvt) Ltd. The panelists were distinguished members of the industry and vastly experienced in cyber security, banking & finance, and large corporate operations.
The key focus of the panel discussion was 'Meeting the guidelines of the Central Bank of Sri Lanka (CBSL) Banking Act 2021, which is a set of guidelines for the banking and finance sector.
The discussion mainly focused on finding solutions to help incorporate and fulfill these guidelines. Furthermore, building Cyber Security and Resilience in the Banking, Financial Services, and Insurance (BFSI) organizations were also addressed. The panelists also touched on the importance of data protection and cyber security within the industry.
A rapid increase of Cyber threats was witnessed in the recent past, and it is imperative that appropriate measures are taken to protect and mitigate and remediate them. Therefore, it is very important that IT security budgets are allocated to help protect businesses and customer information from these threats, especially within the Banking and Financial sector.
Mayura Senevirathne, Head of Business at Oak Integrated Systems, shared his thoughts, "As a systems integrator, we have a heavy focus on cyber security. We look forward to working with the Banking and Finance sector to build cyber security and resilience. We carry a variety of globally reputed brands coupled with the best of local references, which we utilize to provide our customers with the best solutions available."
Oak Integrated Systems (Pvt) Ltd. was established with the strength of its people, integrity of its management, and with a stable financial background. It is a well reputed company in the industry that has continuously provided innovative services to industry leaders in Sri Lanka.
END