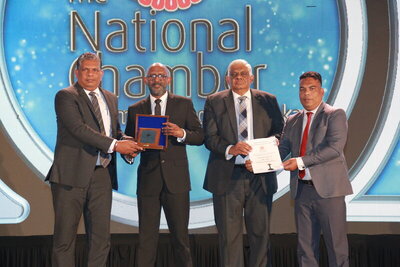 National Business Excellence Awards Debutant Pelwatte wins Merit Award!
Pelwatte Dairy, The Nation's most coveted dairy brand with multiple accolades and achievements bags yet another crucial award in the Sri Lankan market. This time, it was the National Business Excellence Awards for the year 2021 which is organized by the National Chamber of Commerce Sri Lanka (NCCSL). The ceremony took place on the 22nd of March 2022 at the BMICH. The ceremony was graced with the participation and involvement of many corporate powerhouses from various different sectors and industries.
The ceremony itself has been taking place for over 10 years, but this was the first time Pelwatte participated in the award ceremony and bagged the Merit Award for the Manufacturing category in the Food and Beverage Sector. The award is one of the most recognized business excellence awards among the corporate sector in Sri Lanka. It bases its award on many categories and thresholds that determine its coveted winners such as Pelwatte. Welfare of stakeholders, Quality of product or service, CSR, etc… are some of the many areas that it bases its awards on.
Commenting on this feat, the Managing Director Mr. Akmal Wickramanayake said "None of these awards would have been achieved by us if not for our loyal customers our dedicated & hardworking staff who have always supported us and the dairy community that never fails us. We would like to dedicate this award to every stakeholder that stuck by us all these years and the many more that will place their trust in us in the future".
He further added "Pelwatte is the people's brand, from farm to shelf in 48 hours we have people that ensure it, and it is the people that will take us forward. Mere words cannot describe how proud I am of this team for making it this far and I am sure the future will be Pelwatte with this team behind us". He said this while expressing his gratefulness for the Team at Pelwatte that has been with the organization through thick and thin, especially during the last few years which have impacted everyone. But nevertheless, the Pelwatte family soldiers on to making sure that they achieve their goals.
Indeed, the Pelwatte promise, of our nation being self-sufficient in dairy production is not far away. Pelwatte has contributed significantly to this goal by having its dairy products sourced 100% from local dairy farmers. This, is because of the amazing support that it receives from its dairy farmers and internal staff as well. Despite many challenges faced by the farming community this season including the fertilizer crisis, they do not falter on their commitment towards delivering the best. This award would mean nothing without their support.
Excellent business practices cannot be implemented without a significant role being played by every arm of an organization, this award goes on to recognize that contribution of not just Pelwatte as a Brand or company but as a platform of people working together with the same mission of delivering Quality, Farm Fresh Milk sourced entirely from local dairy farmers to reduce dependency on imports and establish Sri Lankan Dairy Milk as a stand-alone commodity, with Pelwatte leading the effort.
Despite there being turbulent times, Pelwatte guarantees that it will ensure to do its duty and serve its loyal customers with the freshest of product. These awards signify its dedication to its customers needs in metal and stone. From supporting farmers to have better livelihoods to ensuring its customers have the best quality, Pelwatte continuously aims to be the people's favourite when it comes to Dairy. Pelwatte's loyal customers are a big part of what it is today and would never have reached this feat without its loyal customers not only playing a part in mere purchase, but also being strong fans of the brand and its purpose, thereby helping it easily implement best business practices that benefit everyone.
Pelwatte indeed presents itself as an example to all other corporates in how it conducts its business practices by being ethical, transparent and a people's brand. It hopes to set precedence with its practices of supporting farmers, and the country by minimalizing the use of imports and foreign currency in the present context with hopes that all other manufacturing brands follow the "Pelwatte Way".