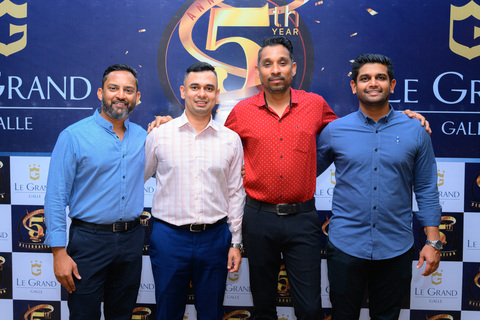 Le Grand Galle Hotel Shines Bright Celebrating 5 Years of Luxury and Unforgettable Experiences
Le Grand Galle, the highly distinguished, Belluna Co. Japan-owned luxury hotel, recently hosted an event to celebrate its 5th anniversary. The hotel is known for its exquisite service and breath-taking vistas of the Galle Fort and its surrounding ocean & unforgettable sunsets.
The anniversary celebration served as a testament to Le Grand Galle's dedication to excellence, and it was an evening filled with joy, gratitude, and celebration. The event was attended by distinguished guests from the travel industry, corporate sector, partners, and service providers highlighting the hotel's position as a preferred choice for luxury accommodation and events in Galle.
Despite various challenges, Le Grand Galle defied the odds and has been operating for five years since 2018. The hotel has stood strong, thanks to its unwavering commitment to providing unparalleled hospitality experiences.
Le Grand Galle offers a myriad of luxurious amenities and services making it an unforgettable destination. Visitors can unwind in elegantly designed rooms starting from 45 sqm Deluxe rooms to 100 sqm + Suites, featuring picturesque views of the ocean, the historic city of Galle, and more. The hotel features 5 exquisite plunge pools and 2 lavish jacuzzi suites for visitors to enjoy.
Additionally, Le Grand Galle boasts three exceptional restaurants, each offering a unique dining experience. Blue, the hotel's Signature seafood restaurant, tantalizes taste buds with an exquisite dinner menu. Dip, the poolside bar, serves refreshing beverages and light bites, perfect for a leisurely afternoon. Taste, the all-day dining restaurant, presents an extensive menu that caters to various culinary preferences ensuring a delightful dining experience for all guests.
Lahiru De Silva, the General Manager of Le Grand Galle, expressed his gratitude and joy on this momentous occasion, saying, "We are truly humbled and honoured to celebrate our fifth year of operation. This milestone would not have been possible without the unwavering support of our valued guests and esteemed partners. It is their trust and loyalty that has fuelled our growth and success. We remain committed to delivering exceptional experiences, and we look forward to welcoming guests for many more years to come." 
Le Grand Galle Hotel continues to be a top choice for discerning travellers, offering an idyllic blend of luxury, impeccable service, and stunning surroundings. With its remarkable fifth anniversary celebration, the hotel further cemented its reputation as a destination that goes above and beyond to create unforgettable experiences for its guests.
Book your next holiday at Le Grand Galle via www.legrandgalle.lk and enjoy 20% off on Anniversary sales and experience the unforgettable luxury and hospitality that has elevated this hotel as a top choice for visitors from across the globe.
Le Grand participated at the Arab Travel Mart and other travel fairs and plans on participating at the World Travel Mart in November. The hotel wishes to extend its continuous support to the Tourist Board. Le Grand also has the accolade of Trip Advisor Travellers Choice since 2019.
Granbell Hotel Colombo is the sister property of Le Grand and the hotel celebrated its 1st year anniversary in May. The hotel is equipped with 292 rooms and is an ideal location for a getaway in the city, with its resort-styled vibe.
END
Image caption: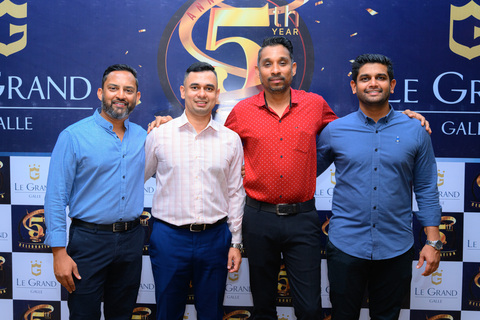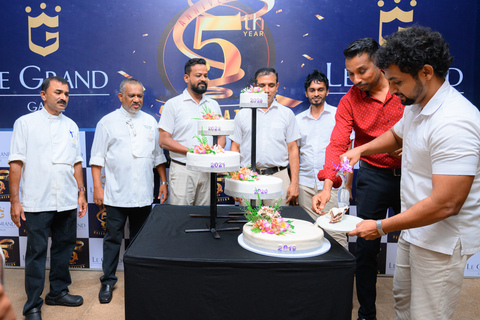 About Le Grand Galle Hotel
Le Grand Galle Hotel is a luxurious 5-stay property located in the picturesque city of Galle, Sri Lanka. Situated amidst the iconic Galle Fort and the serene Ocean, the hotel offers breathtaking views and a tranquil ambiance. With its exceptional service, world-class amenities, and stunning surroundings, Le Grand Galle Hotel sets the stage for a truly unforgettable experience.