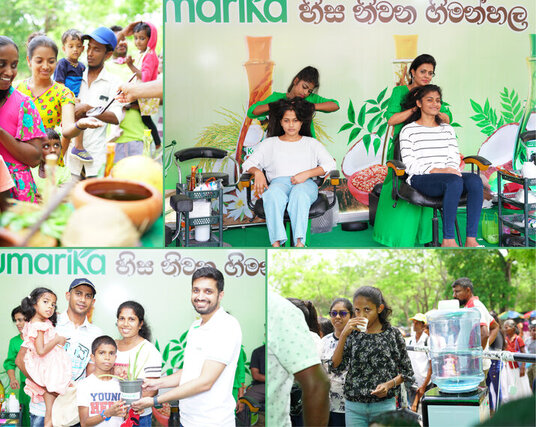 Kumarika continues initiatives to assist pilgrims on their spiritual journey to Mihinthale
Kumarika, the leading local hair care brand in Sri Lanka from Hemas Consumer Brands, embarked on journey over the years to connect with pilgrims who were visiting the Mihinthale Temple. These initiatives were implemented to create meaningful experiences and deepen Kumarika's bond with its valued consumers.
This year, the Mihintale initiative kicked off with a generous distribution of Kumarika Oil to more than 15,000 pilgrims through wet sampling. Over 750 pilgrims received free head massages, allowing them to relax and unwind before continuing their spiritual journey. Fresh drinking water was also distributed amongst the pilgrims. Additionally, complimentary Aloe Vera (Komarika) plants were also distributed to everyone who visited the stall
The initiative was a resounding success, attracting large crowds and assisting pilgrims on their spiritual journey. Kumarika remains committed to conducting similar initiatives nationwide in the future, with the aim of engaging with consumers, understanding their needs, and delivering the best possible product experiences.
This year's initiative was held under the theme "Kumarika Hisa Niwana Gimanhala" which symbolizes the stall as a place where pilgrims could rest and rejuvenate while also availing themselves to a variety of experiences. The initiative was a resounding success and saw large volumes of people visiting the stall.
Initiatives such as this continuously solidify the bond between Kumarika and its consumers, which has been forged over a period of 30 years. Hemas Consumer Brands aims to continue conducting similar initiatives with Kumarika around the country in the future to engage with its consumers.
About Hemas Consumer
Hemas Consumer Brands, the leading Sri Lankan manufacturer of Home and Personal Care products, has won consumer hearts over the years through strong purpose-led brands and progressive sustainability practices. Hemas Consumer Brands strive to bring healthful living and personal care solutions to life through its portfolio of world-class products. They have garnered acclaim for creating superior Market-leading and Award-winning products by uncovering local insights which are nourished by growth-inspired innovative teams. They touch the lives of the communities around the island by creating meaningful offerings, cultivating trusted partnerships, and championing a more environmentally friendly inclusive world.