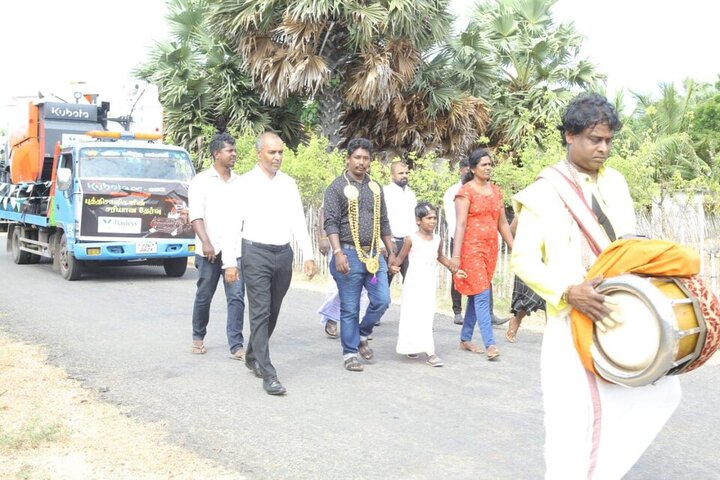 Kubota DC-93G: Leading the Paddy Harvesting Revolution to the Northern Province
Hayleys Agriculture Holdings Limited proudly unveiled its latest agricultural harvesting technology, the Kubota DC-93G Combine Harvester. Recently, the company celebrated another milestone as they handed over a machine to a proud customer, Mr. Maheswaran Kapilraj from Kilai, Jaffna, marking the beginning of a new era in harvesting efficiency and performance in the Northern Province.
The Kubota DC-93G's exceptional adaptability to sinking fields, wider cutting width for increased efficiency, and outstanding performance in muddy terrains, coupled with Kubota's 93G horsepower turbo engine, make it an ideal harvester for Sri Lankan field conditions. Depending on field conditions, this harvester can achieve a maximum daily harvest capacity of 15 acres. Its robust design ensures unwavering stability, allowing uninterrupted harvesting in harsh conditions, while its remarkable efficiency in harvesting lodged paddy surpasses all other models.
The above features make the Kubota DC-93G Harvester revolutionary while empowering farmers with a cutting-edge tool that maximizes productivity and minimizes effort.
"We are thrilled to introduce the Kubota DC-93G Combine Harvester to the farming community. This machine represents the pinnacle of agricultural engineering, delivering unmatched performance, efficiency, and adaptability. With the Kubota DC-93G, we aim to elevate farming practices, supporting farmers in their journey towards sustainable and prosperous agriculture," said Mr. Sumith Herath, Director/BU Head Agri Equipment Division.
As the leader in agriculture, Hayleys Agriculture Holdings Limited continues its legacy of innovation and commitment to the farming community. The Kubota DC-93G Combine Harvester stands as a testament to their dedication to providing the best-in-class agricultural solutions.