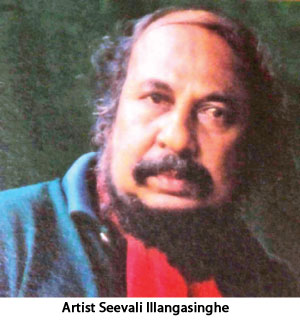 Kala Pola is a great opportunity for all artists across Sri Lanka": Artist Seevali Illangasinghe
Kala Pola – the iconic Sri Lankan open air art fair presented by The George Keyt Foundation in association with the John Keells Group will take place for the 27th consecutive year. This year's fair will be held on Sunday, 23 February from 8 a.m. to 8 p.m. along Ananda Coomaraswamy Mawatha, Colombo 7. Kala Pola is a platform for local artists to showcase their talent to a wider local and international audience in the areas of paintings as well as sculpting. A veteran artist associated with Kala Pola, Seevali Illangasinghe, has been composing vibrant paintings for many years. Below are excerpts of an interview with Seevali about his practice:
Q: How many times have you exhibited at Kala Pola? Tell us about your first experience compared to Kala Pola at present.
I participated in Kala Pola from its inception in 1993. As expected I have seen it grow from a small
Artist Seevali Illangasinghe and his paintings
festival of around 35 artists to the large scale festival it is today, that spans the entire stretch of Green Path in Colombo.
Q: What is the medium you work primarily with? Why do you choose this medium?
From the very beginning, I have worked with oil paints. I believe that oils work best with my work as they contain a rich textural quality that I really like. It has always been received very well by art enthusiasts and my buyers equally, which is important to me. Therefore, I will continue to work with this medium and push my technique with oils to the best of my ability.
Q: What is the message you wish to communicate through your art? What does your art represent?
My art is always related to nature. In this day and age where we see more development and less conservation, I believe my art shines light on the beauty of nature and how fragile, yet wonderful it is. I also paint many landscapes of my memories from the village I grew up in, Siwalakulama, in the central province of Sri Lanka. Some of my paintings are looking back fondly at my childhood, as well as portraying the traditional culture of Sri Lanka.
Q: Who are your greatest influences when it comes to your art? Who inspires you?
A: To be quite frank, I am most inspired by nature, growing up surrounded by it. It was such an extension of myself that I had to bring these scenes to canvas. My beautiful little village and the experiences of village life are a large part of what inspired me to paint.
Q: How important a role does art play in Sri Lankan culture and how do art festivals and corporate patronage for such events support the development of art and artists in Sri Lanka?
In my opinion, Kala Pola is a great opportunity for all artists across Sri Lanka. This platform has provided art lovers, buyers, tourists and the artists themselves an opportunity to interact. In turn, they can learn more about our culture and the artists' stories behind the work, whilst giving the artists an opportunity to be financially supported as well. I think more events like this should be organised to connect buyers and artists together!