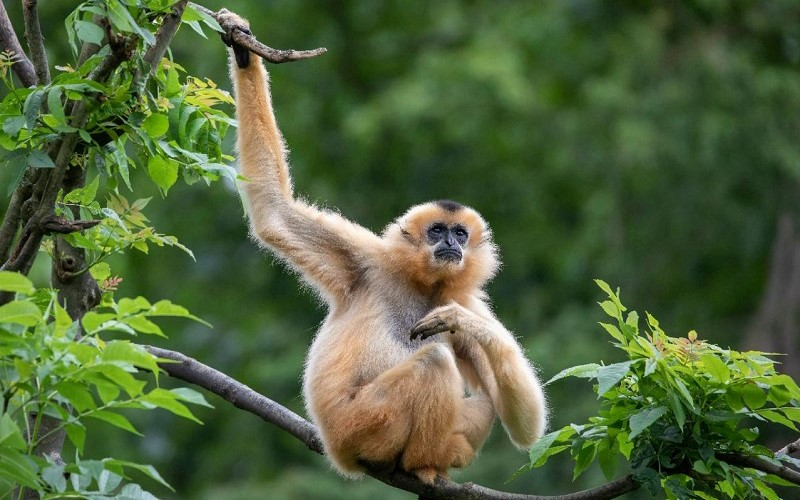 IUCN and Huawei Explore How Technology Helps Repopulate the Critically Endangered Hainan Gibbon
The Green In-sites for Nature Conservation event took place in China's Hainan Tropical Rainforest National Park, bringing together experts and the media to raise awareness of how technology can safeguard biodiversity, including efforts to repopulate the Hainan gibbon – just 36 of which remain in existence.
As the world's rarest primate and one that is classified as critically endangered on the International Union for Conservation of Nature (IUCN) Red List, the remaining 36 gibbons are distributed over 10 km2 of rainforest in the Bawangling area of the national park in Hainan. However, keeping track of this small gibbon population – and therefore formulating measures for their protection and repopulation – has proven to be historically difficult.
"The Hainan gibbon has a series of unique behaviors. They vocalize loudly every morning and have a highly complex audio communication system. But, as they are mostly active in the tree canopy, monitoring them is extremely difficult," said Wei Fuliang from the Hainan Gibbon Bawangling Monitoring Team. Previously, offline devices were used to collect and analyze their vocalizations, with the data collected by park rangers over a three-month inspection cycle. As the recording devices can only store 15 days of data, they were inactive most of the time, leading to a large vacuum in insights for effective conservation. However, animal vocalizations are extremely valuable as they can provide detailed insights into animal populations, behaviors, distribution, threats faced, and the efficacy of conservation measures.
At the end of 2021, IUCN, Huawei, and Hainan National Park Research Institute launched a project under the IUCN-Huawei Tech4Nature partnership to explore how digital technologies can bring new impetus to repopulating the Hainan gibbon.
"Science and technology can greatly improve the availability and timeliness of data and information, and provide more possibilities, opportunities and innovations for nature conservation," said Professor Wang Jichao, Vice President of Hainan National Park Research Institute.
The partners developed and deployed a solution comprising wireless connectivity, cloud storage, and AI analytics. Audio data from the devices is sent back to the cloud 24/7 in real time for analysis by AI. With algorithms trained to identify gibbon calls already reporting a recognition accuracy of 89.2%, the partners plan to use Huawei's AI framework to develop an automatic identification and classification system, one that will establish a unique voice ID for individual gibbons. This level of precision can help conservation experts monitor individual members of the gibbon family and develop highly targeted repopulation strategies.
The Green Sites for Nature Conservation event, which was sponsored by Hainan National Park Research Institute and Huawei, took place two days after the 2022 International Symposium on Tropical Rainforest Conservation on October 24, which coincided with International Gibbon Day. At the symposium, Huawei joined global experts to discuss the role of technology in rainforest conservation and the protection of flagship, umbrella, and endangered species such as the Hainan gibbon.
"Digital technology is continuing to prove its value in achieving conservation outcomes that were impossible even a decade ago," said Du Juan, Head of Huawei's TECH4ALL program. "Developing scenario-specific solutions with our partners can help us better understand threats to biodiversity in all types of ecosystems and guide targeted conservation measures that have a real impact."
As well as the Hainan gibbon project in China, IUCN and Huawei are running several other Tech4Nature projects around the world, applying technology solutions for conservation that are aligned with the IUCN Green List and Huawei's TECH4ALL initiative. These include coral reef restoration in Mauritius, jaguar monitoring in Mexico, and boosting the transparency and traceability of forest carbon sink transactions in Switzerland.
The partners recently released the Tech4Nature Solutions in Focus publication to showcase best conservation practices and the technology architecture used in successful projects across the globe.