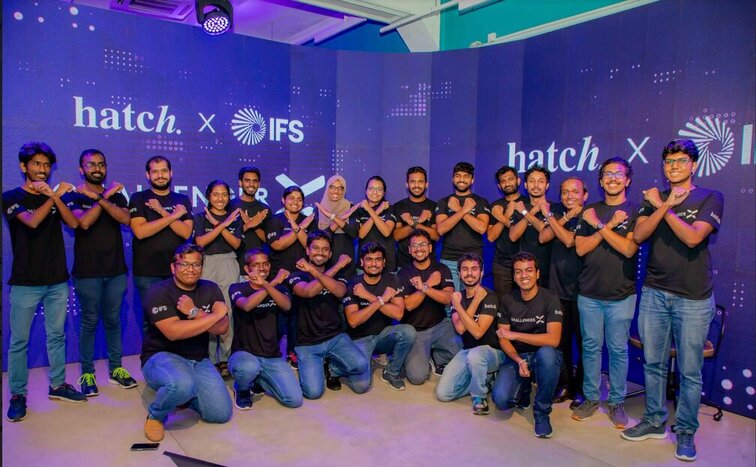 IFS and Hatch's Open Innovation Incubator ChallengerX, enables Local tech talent to tackle global challenges
ChallengerX, marked Sri Lanka's inaugural AI and Machine Learning-focused Incubator Program emerging from a collaboration between IFS and Hatch. The programme came to a close with 2 out of the 6 selected teams winning over LKR 2 million in prizes – a testament to the high calibre of young tech talent present in Sri Lanka.
The program highlighted the significance of Open Innovation platforms in connecting local tech talent with global exposure through IFS, enabling the company to leverage perspectives from external sources to drive innovative solutions for its global customer base. The challenge presented by IFS involved designing a predictive modelling system to enhance business continuity for their global customers when confronted with unexpected events like natural disasters. After reviewing over 40 applications, six teams, predominantly composed of university students, were selected to participate in the program.
During the 6-month program, teams participated in workshops led by Hatch and IFS, receiving guidance from esteemed mentors who were global experts in AI and Machine Learning from various academic and corporate backgrounds. They had the opportunity to showcase their Minimum Viable Products (MVPs) to stakeholders at IFS including Oliver Pilgerstorfer – Chief Marketing Officer and Chris Ditchburn – Senior Vice President, Platform R&D.
The winning team, Data Dreamers, a group of friends from the University of Moratuwa, was awarded the top prize of LKR 1.5 million. Team Data Dreamers had significant female representation and the exceptional quality of their work serves as an inspiration to aspiring female tech talent throughout Sri Lanka. The runners-up – Team Model.Fit were granted a prize of LKR 500,000 and a free 6-month membership at Hatch. This opportunity to further engage with and learn from the start-up community at Hatch will offer valuable perspectives and insights to the team into the future.
Hatch and IFS strongly advocate that purpose driven open innovation is key in accelerating the growth of Sri Lanka's tech industry, allowing for the creation of successful global solutions directly from within the country.
About Hatch
Hatch, an award-winning Sri Lankan co-working space, start-up incubator, and accelerator, was established in 2018 by Jeevan Gnanam, Brinda Selvadurai, and Nathan Sivagananathan. Located in Fort, Colombo, Hatch serves as a vibrant hub for its diverse community of over 800 members. Through its programs, Hatch has successfully incubated and accelerated over 130 start-ups, contributing to the creation of at least 500 job opportunities in Sri Lanka. With a vision of an economy powered by purpose-driven innovators, Hatch is committed to fostering a thriving startup ecosystem and positioning Sri Lanka as a prominent start-up nation.
About IFS
IFS, a multinational enterprise software company headquartered in London, recently marked the milestone of 25 years since the establishment of its operations in Sri Lanka. This anniversary serves as a testament to IFS's enduring commitment to investing in the technology landscape of Sri Lanka. As one of the largest IT companies in the country, IFS continues to make significant contributions to the growth and development of the local tech industry.
ENDS
Image Caption- "Participants of the Incubator ChallengerX at their final Demo Day"