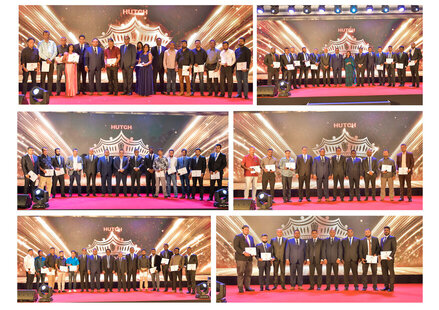 HUTCH Honors Top Retail partners with Gold Coins. Unveils exclusive retailer rewards card with FriMi Mastercard
HUTCH, the pioneering mobile telecom operator in Sri Lanka, hosted the highly anticipated GAURAWABHIMANA Retailer Awards Ceremony to recognize and honor the exceptional performance of its key retail partners during the first 4 months of 2023. The district-wise top-performing retail partners spanning from all over the country were awarded gold coins for their extraordinary efforts and unwavering commitment amid a challenging environment. Whilst the event recognized top retail partners, the event also felicitated best performing HUTCH distributor partners and staff that keep their frontline retail partners going.
At the event, HUTCH also unveiled an exclusive co-branded retailer rewards card in partnership with FriMi – MasterCard for their retailer partner network. This innovative card offers a range of benefits and discounts, along with the convenience of direct deposits of incentives into the retailer's accounts. The launch of HUTCH FriMi MasterCard is a start to a new world of benefits that HUTCH intends to extend further solidifying its commitment to supporting its retail partners and fostering their growth and success.
Thirukumar Nadarasa, Chief Executive Officer of HUTCH Sri Lanka, addressed the congregation stating, "This marks the beginning of a return to normalcy. After three years of unprecedented challenges caused by the pandemic and the economic crisis, I am delighted to celebrate with our champions who have demonstrated their exceptional performance, dedication, and resilience in sustaining our operations throughout the trying times. As the times improve, together, we have tremendous opportunities to forge ahead, capitalizing on new prospects to scale up our businesses. We look forward to continuing our support to our partners as an integral part of our growing business."
Tharindu Wijerathne, General Manager – Sales at HUTCH Sri Lanka, also expressed his thoughts about the event, stating, "We are proud to have hosted the successful HUTCH GAURAWABHIMANA Retailer Award Ceremony, which is a testament to the exceptional relationship we have built with our retailer partners, who have been instrumental in driving our growth. It is great we are able to recognize and celebrate these outstanding contributions of sales achievements even during these difficult times. Congratulations to our retail partners, and wish all an exciting race to our season 2 that has commenced for the next 4 months ahead.."
END