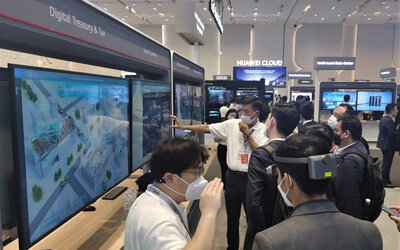 Huawei launches latest Smart Customs and Port Solutions to Help Build World-class Trade Infrastructure
Huawei launched its latest solutions for customs and ports at HUAWEI CONNECT 2022, held in Bangkok during recently. This marks the company's latest tactical move to help the digital transformation of ports and customs after it established its Customs and Port Team last October.
The debut of the Customs and Port Team in Asia Pacific is a big milestone for Huawei, said Robin Lu, Senior Vice President and COO of Huawei Customs and Port Team. The company has many successful digital transformation practices and cases in global trade infrastructure, such as customs and port industries. "At HUAWEI CONNECT this year, we are sharing our leading ICT products and successful industry scenario-based solutions in the hope of helping customs and port infrastructure in Asia Pacific achieve modernization and smart development. In doing so, we can improve port operational efficiency and cross-border trade facilitation," Lu said.
Port of the future: Safe, Efficient, and Smart
According to Lu, ports in nowadays represent the key infrastructure for international trade and global economic growth. As the world goes digital, ports are under pressure to add intelligence to their equipment, enhance their technological infrastructure, and mine data value. Digitalization is both a challenge and an opportunity.
To help ports go digital, Lu said Huawei offers a range of solutions based on Port Intelligent Twins. The different solutions function as the brain, arms, legs, and eyes of the port.
Brain — Smart Container Planning: Planning is the starting point at any port, impacting operational efficiency. Huawei uses the Huawei Cloud OptVerse AI Solver to enable intelligent planning, helping ports optimize every step of their production efficiency.
Arms — Remote Control with an Optical Network: Conventional terminal operations are time-consuming and labor-intensive. Operators have to work in harsh environments without food or drink for several hours. Quay crane (QC) drivers usually work at a height of 40 m above the ground, at the risk of occupational diseases.
Huawei's remote control solution for QCs and yard cranes (YCs) relies on an optical network. Operators can work remotely from air-conditioned rooms in urban areas, enjoying more safety and comfort as well as shorter commutes. Plus, the solution features high bandwidth, low latency, enhanced security and reliability, simplicity, and easy O&M.
Legs — Smart Horizontal Transport: Ports usually run 24/7. As such, internal container truck drivers typically work in three shifts, facing safety risks and high workloads. Even so, manual dispatching fails to refine plans for complex situations, resulting in low resource utilization.
Huawei's smart horizontal transport solution builds smart clouds, vehicles, and roads. The solution features global path planning, high-precision positioning, an MDC platform that integrates lidars, mmWave radars, and cameras, core system integration, and cloud-vehicle decoupling. These features enable autonomous driving, intelligent obstacle avoidance, and adaptive cruise control, reducing safety risks and increasing operational efficiency by 20%.
Eyes — Smart Production Security: Safety and security are critical at ports. The newly automated terminals require an all-weather security assurance system. That's why, Huawei offers a smart production security solution to help terminals avoid safety risks.
Smart Customs: Open, Controllable, and Fast
Manual inspection usually takes a long time, slowing down customs clearance. Another important issue is ineffective supervision, which negatively impacts trade. To address these issues, Lu said Huawei has designed solutions to enable openness, easy control, fast access, and quality services.
Remote Inspection: Huawei's one-stop customs video inspection solution facilitates online, mobile, and video-based inspections. Customs authorities and enterprises can now interact online instead of performing on-site checks. This leads to faster inspection services and reduces labor and time costs for both customs authorities and enterprises.
Smart Gates: Huawei has also designed a smart gate solution that improves the efficiency at inspection entry and exit points. Gates would often see a lot of congestions and there were many manual tasks. With contactless supervision, inspections are faster and more collaborative; plus, drivers don't need to leave their trucks for clearance.
In October last year, Huawei established its Customs and Port Team to foray into the sector. The group is committed to integrating the company's leading ICTs — such as 5G, AI, big data, and cloud — to deepen the Huawei's understanding of customer needs and respond to
Image caption: The Smart Customs and Port Solutions Booth at Huawei Connect 2022