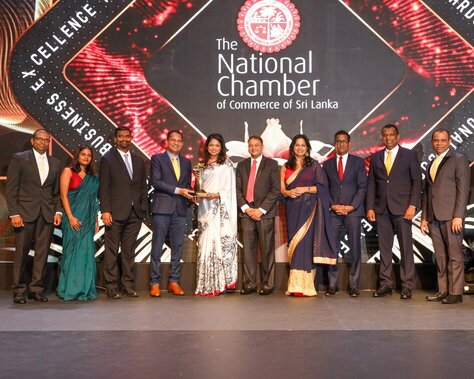 Hayleys Fentons Shines in debut at National Business Excellence Awards 2023
Bags Prestigious Overall Winner – Silver Award
Runner-up in the Extra-Large Sector
Winner for Local Market Reach
Winner for Infrastructure and Utilities Sector
Total 18 National Business Excellence Awards won by the Hayleys Group
Hayleys Fentons achieved a significant milestone at the National Business Excellence Awards 2023 by winning four major awards in their inaugural participation at the event.
At the June 20th event, Hayleys Fentons was honoured as the Overall Winner claiming the Silver Award organized by the National Chamber of Commerce Sri Lanka. The company also claimed Winner in the highly competitive Infrastructure and Utilities Sector and was awarded Runner-up in the Extra-Large Category.
These prestigious awards highlight Hayleys Fentons' dedication to delivering exceptional services and signify their continued pursuit of excellence in the business landscape.
Hayleys Fentons also claimed the Winner in Local Market Reach, showcasing the unparalleled ability to connect with and serve the local community. This achievement highlights effective strategies and strong presence in the local market, solidifying its position as the undisputed leader in the market with four key awards.
The National Business Excellence Awards, held annually, serve as a platform to honour businesses that have made significant contributions to the economic progress of Sri Lanka. The event celebrates outstanding achievements, leadership, and governance, all of which contribute to the overall development and progression of the nation.
Commenting on this momentous win, Hasith Prematillake, Managing Director of Hayleys Fentons, expressed his gratitude, stating, "We extend our heartfelt appreciation to the chairman and board of directors of Hayleys PLC for their unwavering direction and guidance. We also thank the National Chamber of Commerce Sri Lanka for organizing this esteemed event and providing a platform to celebrate outstanding businesses. Winning the highly esteemed Overall Winner – Silver Award, along with several other accolades, is a testament to our relentless pursuit of excellence, resilience in facing challenges with a positive mindset, and innovative thinking demonstrated by our team. We have consistently looked after our employees even in tough times, and this recognition will maintain our position at the forefront, among the top industries in Sri Lanka."
Together, Hayleys Group Companies clinched a total of 18 prestigious awards at the National Business Excellence Awards 2023. These included the awarding of the Large Category Winner (Advantis Projects and Engineering) 4 top honours for Sector Awards; Export (Dipped Products PLC), Construction (Advantis Projects and Engineering), Manufacturing – Non Traditional (HJS Condiments Limited) and Manufacturing – Other Sectors (Alumex PLC), and winning the Criteria Award for CSR (Quality Seed Company Pvt Ltd).
This remarkable feat showcases the Group's unwavering commitment to innovation, exceptional performance, and industry leadership across diverse sectors.
(ENDS)
About Fentons Ltd:
Founded in 1919, Fentons is one of the first engineering companies to be established in Sri Lanka. With over a hundred-year legacy in solar, electrical, security, ICT, Fire, A/C, UPS, facility management, and several other areas of engineering, Hayleys Fentons has grown to become a trusted pioneer in the industry that has made its mark and established an undisputed reputation across various other sectors.
Image Caption: The Hayleys Fentons team at the National Business Excellence Awards 2023