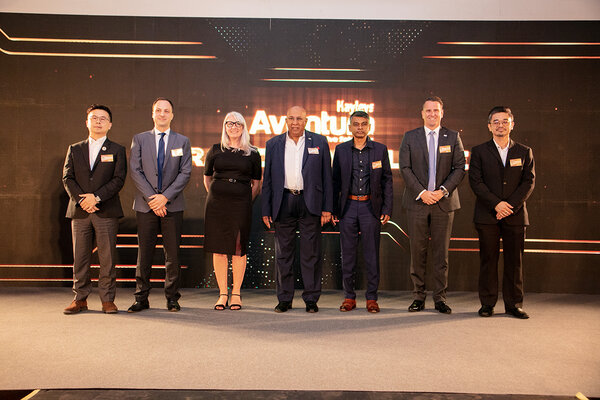 Hayleys Aventura: Revolutionising Weighing, Material Handling and Storage Solutions in Sri Lanka
Hosts Brand Conclave connecting top tier global industry brands with local businesses
Hayleys Aventura, a leading industrial solutions provider, hosted their Brand Conclave on the 27th of June bringing together some of the world's most reputed industrial brands and their top management, to interact and share insights on their world-class product innovations, all under one roof.
Hyster (USA), Prestar (Malaysia), Suzhou Asia Fuji (China), Goodpack (Singapore), A&D (Japan), A-Safe (UK) and most recently Avery Weigh-Tronix (UK), globally renowned industry leaders, have partnered Hayleys Aventura to offer customised solutions tailored to meet material handling requirements across industries.
The Brand Conclave offered a seamless blend of technical sessions and interactive opportunities through products on display, offering an exceptional opportunity for participants to obtain a deeper understanding of the available solutions. Senior leaders of Hayleys Aventura's global partner brands were present and shared how Sri Lankan businesses could collaborate and gain access to the most advanced weighing, material handling and storage solutions available worldwide.
"Our mission is to provide affordable access to best-in-class weighing, material handling and storage solutions for Sri Lankan industries," stated Wasaba Jayasekera, Managing Director of Hayleys Aventura (Pvt) Ltd. "We aim to unlock efficiencies within their supply chains and optimise their ability to get their products to market by offering solutions on par with the highest global standards."
With an established presence and proven excellence in the industry, Hayleys Aventura offers a wide range of products, including material handling equipment, racking systems, elevators, car parking systems, industrial and commercial weighing scales, intermediate bulk containers, safety barriers, and much more. By maintaining strategic partnerships with renowned brands, the team ensures that each product offered reflects superior quality, durability, and cutting-edge technology.
Comprehensive service and support are offered throughout the entire customer journey. Hayleys Aventura offers a fully equipped workshop capable of handling specialised repairs and major overhauls of any reputed forklift brand, ensuring longevity and reliability of products are guaranteed.
"We thank each of our valued representatives of our global partner brands, for visiting Sri Lanka and engaging with local businesses to support their growth." Jayasekera said. "Empowering these industries aligns seamlessly with our core purpose; to 'engineer scientific solutions with sustainable innovation'."
A 24-hour hotline and nine regional service centres across the island ensure timely assistance and support whenever needed. All of these services are delivered by experienced and highly skilled Aventura staff, who undergo rigorous training by the brand principals to ensure their technical proficiency.
Representing the Industrial Inputs and Power and Energy sectors of Sri Lanka's most diversified conglomerate, the Hayleys Group, Hayleys Aventura consists of four diversified strategic business units: Industrial Machinery, Medical and Analytical Solutions, Industrial Raw Materials and Power and Renewable Energy.
END
Photo Caption
Mohan Pandithage, Chairman and Chief Executive of Hayleys Group and Wasaba Jayasekera, Managing Director of Hayleys Aventura with the brand Principals at the Hayleys Aventura Brand Conclave 2023.