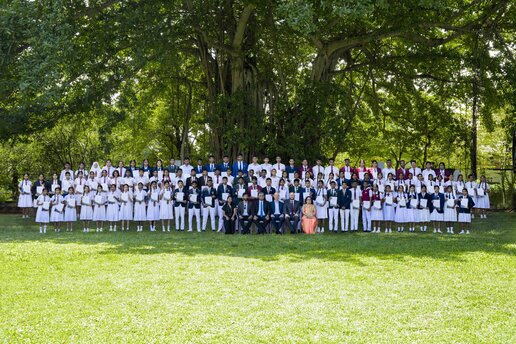 Fostering talent and awareness through the Zero Chance school competition
This is a joint release between the Australian Government and Government of Sri Lanka
156 students representing 41 schools across 15 districts in Sri Lanka were celebrated during a prize giving ceremony at the Sri Lanka Foundation Institute in Colombo for the Australian Government's Zero Chance Art and Essay competition.
Running from April to July, the competition, in collaboration with the Sri Lanka Ministry of Education, saw close to 1800 students participate in the creation of essays and artworks on the theme of illegal maritime migration to Australia.
Speaking on the sidelines of the award ceremony, Australian High Commissioner to Sri Lanka, Mr Paul Stephens said that the initiative has helped amplify the Australian Government's Zero Chance message, discouraging vulnerable Sri Lankans from undertaking such journeys.
"This month marks 10 years since the establishment of Operation Sovereign Borders, a military-led border security operation to protect Australia's borders, combat people smuggling in the region, and importantly, prevent people from risking their lives at sea. Crucial to the success of this operation is the Zero Chance strategic communication campaign, which is designed to inform, educate and deter people from undertaking such dangerous journeys by sea. The students have done a fantastic job in expressing the theme in their own creative ways, and the level of participation it has generated across many schools is nothing short of exceptional. I thank the Ministry, school principals, and teachers for their support," said Mr Stephens.
Divided into two age groups, Years 9 to 11 and Years 12 to 13, 14 judges, nominated by the Ministry of Education, evaluated the entries and selected the winners.
Mr Stephens added that it was important to note that the students did not receive any formal information on the theme prior to the creation of their submissions.
"What is particularly striking is the unanimous feedback from the judging panel. They have been thoroughly impressed by the depth of understanding, critical thinking, and knowledge displayed. Their insights were astute and original," remarked Mr Stephens.
Sending his wishes to the winners, the Secretary of the Ministry of Education, Mr Nihal Ranasingha stated, "This competition has not only brought to light the topic of illegal maritime migration, it has also provided opportunities for personal growth and skills enhancement. I commend the Australian Government for their commitment to nurturing our youth and providing them with valuable opportunities."
All winning students were presented with certificates, jointly signed by the Australian High Commissioner and Secretary of the Ministry of Education. Winners of the essay competition received scholarships in PC-based applications, and winners of the art competition were provided with scholarships in Graphic Design, both conducted by the Vocational Training Authority of Sri Lanka.
For more information on Australia's border protection policies, visit
www.australia.gov.au/zerochance
END
Image Caption – The Winners of the Zero Chance Art and Essay Competition 2023