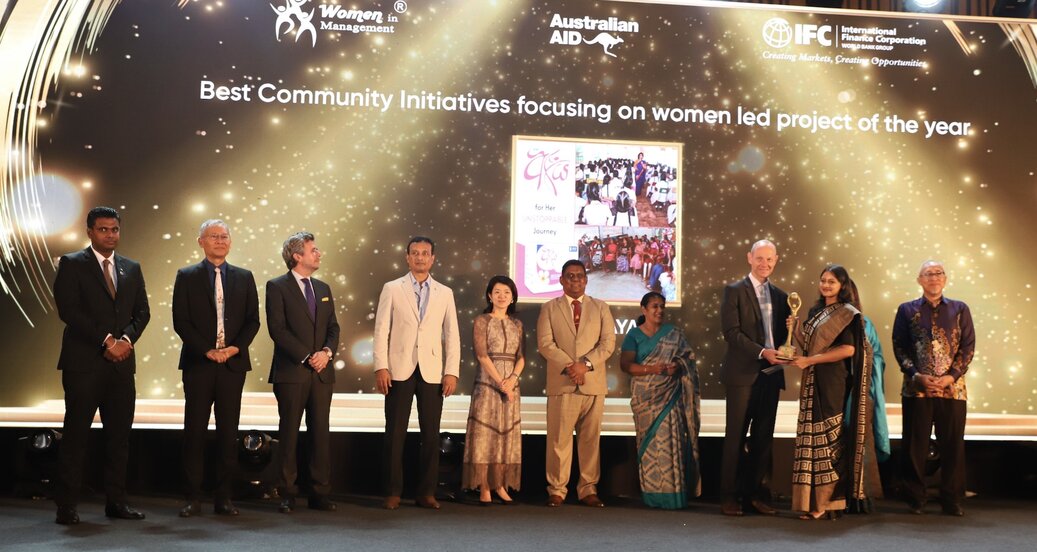 Fems AYA wins Top 50 Professional & Career Women Global Award for groundbreaking work in the area of period poverty
Fems, the socially responsible feminine hygiene care brand by Hemas Consumer Brands, won the prestigious 'Best Community Initiative Focusing on Women Led Project of the Year' award at the recently-concluded Top 50 Professional & Career Women Global Awards for its groundbreaking project, 'Fems AYA'. The project has empowered countless women and girls by making menstruation products accessible and affordable to over 270,000 households, while also providing training and education for 15,000+ women across the island on good menstrual hygiene practices within two years. The impactful initiative has helped shatter social stigma around menstruation through awareness raising sessions, thereby making women in Sri Lanka unstoppable in their journey to success.
Fems was the first brand to take on the challenge posed by the realization that less than 30% of menstruating women in Sri Lanka use sanitary napkins regularly. The Fems AYA initiative focuses on creating awareness, improving affordability, and enhancing accessibility to empower girls and women, eliminate the stigma around menstruation, and create a supportive environment. The project addressed concerns about affordability by launching the Fems AYA wing napkin in June 2021 at the lowest price point of Rs. 99 for a pack of 10 sanitary pads as a high quality option and for good menstrual hygiene especially for those who found sanitary napkins unaffordable. Fems AYA was made available island-wide and not only in urban areas for easy accessibility
Fems AYA has partnered with four likeminded organizations – Sarvodaya Women's Movement, Sarvodaya Fusion, The Arka Initiative and the MJF Charitable Foundation – to ensure a wider outreach.
Adding further value, the brand supported ending period poverty through Fems AYA by building overall awareness and accessibility to good menstrual health and hygiene among all SECs and menstruating age groups, engaging with over 124,000 women and girls. Fems also took innovative strides by designing a specialized sanitary napkin dispenser unit, strategically installed in educational institutions and corporate settings.
Throughout its journey of over 18 years, the brand has been continuing its pioneering efforts towards the betterment of women through various community support activities. Fems AYA is a national initiative and in line with its goals, Fems will continue to champion a life free of period poverty for the women and girls in Sri Lanka, while eliminating the social stigma around what should be a normal bodily activity.