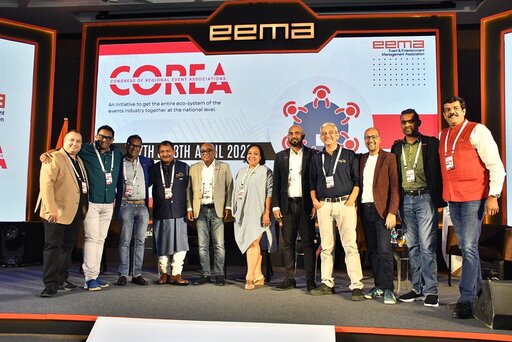 Event Management Association Sri Lanka Make Waves at COREA Congress New Delhi: Landmark Treaty Signed
Event Management Association of Sri Lanka (EMA), the only official body in Sri Lanka with an elite membership of over 50 members, is proud to announce its successful participation in the prestigious Congress of Regional Event Associations (COREA), hosted by the Event & Entertainment Management Association (EEMA) held on the 17th and 18th of April 2023, at the Leela Ambience Convention Hotel, in Shahdara – New Delhi. At the heart of the congress was a treaty signed by all participating associations, signaling a new era of collaboration and cooperation. The event marked a significant milestone for EMA SL, showcasing the association's expertise, innovation, and commitment to excellence in the events industry.
COREA brings together event associations, professionals, and industry leaders from the south Asia region to exchange knowledge, explore emerging trends, and collaborate on future initiatives. As a distinguished participant, EMA SL seized the opportunity to network, engage in insightful discussions, and contribute to the advancement of the regional event landscape.
"We are thrilled to have been a part of COREA and to have had the chance to share our expertise with industry peers," said Nisal Caldera, Secretary at EMA SL. "Attending this esteemed congress not only reaffirms our commitment to excellence but also provides us with valuable insights and connections that will further elevate our services."
During the congress, EMA SL showcased its innovative event management solutions, cutting-edge technologies, and an unrivaled commitment to client satisfaction. The EMA SL representatives actively participated in panel discussions, workshops, and knowledge-sharing sessions, highlighting EMA SL's industry-leading practices and thought leadership.
The congress served as a platform for EMA SL to introduce its latest developments in event planning, execution, and logistics. The association team shared best practices, case studies, and success stories, garnering attention and accolades from fellow professionals in attendance.
Being able to share our experiences and learn from others in the industry has been immensely valuable," added Nisal Caldera. "COREA has not only strengthened our relationships with partners and clients but also allowed us to stay at the forefront of the evolving event landscape. We are confident of receiving a significant boost in MICE events and destination wedding bookings subsequent to our participation."
EMA SL's participation in COREA reinforces the association to continuous improvement, fostering innovation, and delivering exceptional event experiences to its clients. By leveraging the knowledge and insights gained at the congress, EMA SL aims to further enhance its services, staying ahead of industry trends and providing unparalleled solutions to its member's local and global clientele.
Representing the Event Management Association of Sri Lanka at the prestigious Congress of Regional Event Associations ( COREA) are (from left to right) Gayan Attanayake, Assistant Treasurer; Saliya Weerasekara, Treasurer; Nisal Caldera, Honorary Secretary; and Committee Members Janice Hakel-Ranasinghe, and Miikke Abaysinghe.
End
Photo Caption
From Left to Right – Representing the Event & Entertainment Management Association and the Event Management Association of Sri Lanka at the prestigious Congress of Regional Event Associations (COREA) areEEMA National Executive Committee Vice President – Vipul Pandhi, EEMA General Secretary – Vinod Janardhan, EMA SL Committee Member – Miikke Abaysinghe, EEMA President – Samit Garg, EMA SL Honorary Secretary – Nisal Caldera, EMA SL Committee Member – Janice Hakel-Ranasinghe, EMA SL Treasurer – Saliya Weerasekara, EEMA Executive Vice President – P. V. N. Vidyasagar, EEMA Secretary – Siddharth Ganeriwala, EMA SL Assistant Treasurer – Gayan Attanayake, and EEMA Vice President – D. V. Vinod Gopal.