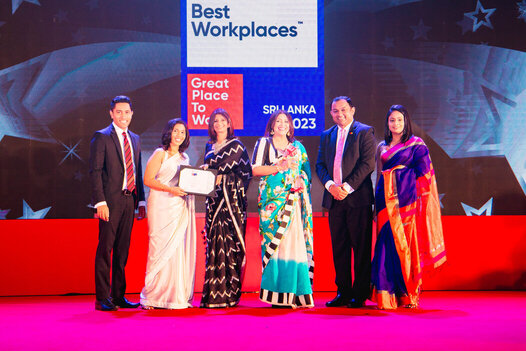 DIMO Continues to Lead as One of Sri Lanka's Premier Workplaces for Over a Decade
DIMO's recent remarkable 11-year winning streak as a Top Great Place to Work in Sri Lanka under the Large-size Workplace Category and recognition as one of Asia's Top 100 Workplaces by GPTW, are clear testaments to the strength of its employee value proposition, "making work enjoyable and rewarding."
Speaking on this milestone Executive Director and Chief Human Resources Officer of DIMO Dilrukshi Kurukulasuriya said maintaining such a winning streak requires more than just good HR practices, it necessitates a strategic approach to employee satisfaction and engagement while turning the company's employee value proposition into a reality.
The company's employees are the cornerstone of this achievement, and their testimonials on different aspects of the work culture reflect the vibrant work environment and the deep sense of belonging within the DIMO tribe.
Rakhita Gunasekera, Chief Operating Officer (Chemical Solutions) at DIMO, emphasized a 'Great Place to Work' as an environment that encourages people to give their best without compromising on values. "This leads to cohesive growth. DIMO is such a place", he added.
Ravinesh Senaratne, Deputy General Manager – Marketing (Retail), who began his career as a Management Trainee at DIMO said, "DIMO didn't just hire me, it invested in me and entrusted me with diverse brands, products, and services from Mobility to Retail Sectors. The organization always assists me to reach the next level of growth while facilitating my career elevation."
At DIMO, the culture of Recognition and Rewarding serves as a catalyst for innovation and encourages employees to think outside the box. Viraj Gunaratne, Deputy General Manager – Automotive Parts Sales highlighted Recognition and Rewarding culture at DIMO not only motivates him and his team to achieve given targets, but also enables them to do things differently.
Diversity, inclusion, and equity have significantly elevated DIMO's performance culture. Shehan Fernando, Head of Customer Care Mercedes-Benz Passenger Service said " Diverse perspectives foster innovation, while increased engagement drives higher productivity and ensures the quality of the workshop operations, which helps us cater to diverse customers. Further, equitable opportunities attract and retain top talent to cater to brands like Mercedes-Benz."
Ajla Jayakody, Executive – MIS Demand & Supply Planning, expressed her enjoyment of working at DIMO as an absolute delight. She said celebrating personal and work-related milestones; birthdays, team achievements, appreciations, and recognitions by the team and the management create a sense of belonging and camaraderie within the DIMO tribe.
DIMO prioritizes employee well-being by promoting work-life balance. Sujani Wanniarachchi, Assistant Manager – Operational Compliance said employee engagement initiatives such as DIMO Got Talent, DIMO Sports Club, and DIMO Nature Club provide opportunities for employees to develop beyond their careers. Interactive sessions like DIMO day and the Employee Council foster a positive and inclusive work environment and improve overall employee satisfaction.
Niluka Ferdinands, Secretary to the Managing Director and Group CEO, who has served DIMO for more than 13 years proves her bond towards the company. She explained the healthy work environment and that her peers' trust motivated her to work hard, taking pride in the job for facilitating administrative support to the leadership.
Timal Tennakoon, Deputy General Manager Medical Engineering Solutions, highlighted the training and development opportunities the company offered him from managing a clientele to handling international brands such as Carl Zeiss. "I was given the full freedom to select the line of business that I would like to work in. Training and development opportunities in all Carl Zeiss factories worldwide and representing many international medical congresses reshaped my career", he said.
DIMO's recognized work culture also reaffirms the company's commitment towards fuelling dreams and aspirations of its people.
END
Image Caption:  DIMO HR Team representatives at the Great Place to Work awards ceremony which was held recently. 
About DIMO
Diesel & Motor Engineering PLC (DIMO) is involved in a number of related fields and represents many prestigious principals – Mercedes-Benz, Siemens, Jeep, KSB, TATA Motors, MTU, Komatsu, Michelin, Zeiss, MRF, Bomag, Claas, TK Elevator, Mahindra Tractors and Stanley to name a few. From a company known for vehicles, DIMO today has diversified into many areas. Medical Engineering, Building Management Systems and Services, Power Generation and Distribution, Material Handling, Storage and Warehouse solutions, Power Tools, Agricultural Equipment, Total Lighting Solutions, Power systems and Generators, Refrigeration, Ship Repairing and Driver Training Courses are some of the areas into which DIMO has entered during the past few decades. DIMO has also diversified into fertilizer and agriculture input market. DIMO successfully entered into overseas markets in the Maldives and Myanmar, by expanding their Marine and General Engineering services through partnerships in the Maldives and their automobiles and automobile servicing segments into Myanmar. DIMO is currently working to consolidate on current overseas operations with new markets in East Africa.