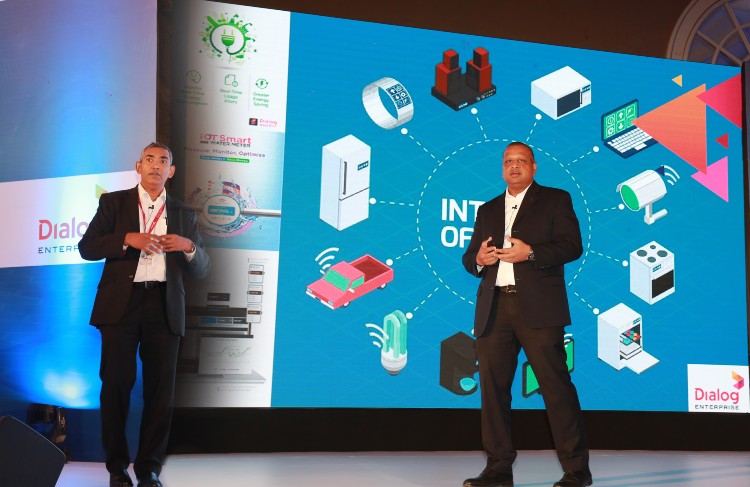 Dialog Enterprise makes the ardent call to digitize Trading and Manufacturing sectors
Dialog Enterprise, the digital business solutions arm of Dialog Axiata PLC, showcased its readiness and experience to digitize enterprises of trading & manufacturing sectors. Dialog's readily available products and services boost productivity, security and speed to market of small, medium and large enterprises by leaner digital business processes and enabling new business models. This message was conveyed to the nation's leading representatives of the trading and manufacturing sectors at an event held recently at The Hilton Colombo under the theme 'Enterprise Digital Transformation'. The event was graced by CIOs, CTOs and IT Leaders across the sector.
Disrupting the status quo, Dialog Enterprise now pledges to create a rewarding experience for businesses by improving their efficiency, productivity and customer experience while ensuring they have the right digital capabilities. Embarking on a new journey to provide fully-fledged ICT solutions to institutions, Dialog Enterprise is ready to serve its clientele with a product portfolio comprising Converged Communications, Internet of Things (IoT), Security and Surveillance, Data Centre, Cloud, SDN (Software-Defined Networking), Location-based Services and Digital Advertising.
Commenting on the digital platforms of Dialog, Group Chief Innovation Officer and Chief Architect of Dialog Axiata Anthony Rodrigo said, ''Dialog's global award-winning multi-vendor, device agnostic IOT platform offers a range of solutions from fleet management, smart-agriculture, smart city to industrial automation. The platform offers a unique blend of telco services, IOT and Analytics to enable our enterprise customers and partners rapidly create solutions to solve their business problems and innovate in a cost-effective manner''
The solutions offered by Dialog Enterprise were demonstrated by Dialog's product teams to give a deep understanding and hands-on experience of the solutions. The live demonstrations created an invaluable opportunity for clients to ascertain the issued faced by them, closely inspect the solutions and map the benefits of those solutions to their prospective needs. Dialog Enterprise invited all participants to experience the promising impacts its solution would bring and work collectively to develop new capabilities that drive growth.
Caption (L-R): Consultant – M2M/IoT Strategy and Partner Management of Dialog Axiata Dr. Indika Samarakoon and Vice President – Enterprise Business and Large Enterprise Sales of Dialog Axiata, Navin Pieris presenting on Dialog's IoT platforms to the audience.