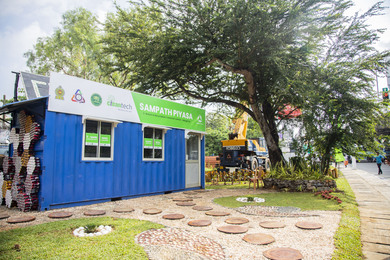 Cleantech takes lead in E-waste management with new collection centre in Rajagiriya
Cleantech (Pvt) Ltd., Sri Lanka's foremost provider of integrated waste management solutions is proud to announce the opening of their new e-waste and recyclables collection center, Sampath Piyasa, in Rajagiriya. Aligned with Cleantech's principles of minimizing environmental impact, the center will collect electronic waste (e-waste) and recyclables, providing a convenient and environmentally responsible disposal solution for residents and businesses in the area.
The opening event was graced by the esteemed presence of notable representatives, each contributing their expertise and commitment to the cause. Among the distinguished guests was Meryl Perera, the Chairman of the Western Province Waste Management Authority (WMA), and joining him was Shalika Ranaweera, the Commissioner of the Sri Jayewardenepura Kotte Municipal Council, from the Ministry of Environment, R.H.M.P Abeykoon, Additional Secretary with a focus on Environment Policy & Planning, and Rajith Jalthota, Deputy Director of the Chemicals & Hazardous Waste Management Division at the Central Environmental Authority. Additionally, representatives from the Western Province Waste Management Authority (WMA), the Ministry of Environment, the Central Environmental Authority (CEA), and Cleantech Pvt Ltd joined the event.
Commenting on the launch of the collection center, Rukitha Nanayakkara, CEO of Cleantech (Pvt) Ltd, said, "At Cleantech, we place great emphasis on implementing circular economic principles in waste management activities. At Rajagiriya, our focus is on technical waste, as opposed to bio-degradable waste, we intend to recycle, process, and reintroduce it back to the economy in a usable manner. In expanding our operations, it is crucial for us to provide value to the community, state, and the environment through our ventures to ensure long-term sustainability. I commend the entire Cleantech team for their dedication and hard work in making this project a reality; opening a collection center is one thing but running it successfully and sustainably is another."
Cleantech's latest venture is a clear testament to the company's extensive expertise and experience in the waste management industry. The company provides solid waste management solutions, recycling, E-waste handling, built environment maintenance, hygiene, and sanitation services. With over 21 years of operations, the company has provided its services to numerous state and private institutions, establishing a strong reputation for reliability. Cleantech works closely with key government bodies, including the Ministry of Environment, Western Province Waste Management Authority, Sri Jayawardenepura Kotte Municipal Council, and Central Environmental Authority, to ensure the highest levels of quality and safety in this endeavor.
Commenting on behalf of the Western Province Waste Management Authority, the Chairman, Meryl Perera, stated, "I would like to extend my sincere gratitude to Cleantech for taking the initiative to establish the Sampath Piyasa E-Waste & Recyclables Collection Centre in Rajagiriya. This marks the third facility of its kind, and it is imperative that we continue to prioritize such projects in our country."
The Commissioner of Sri Jayewardenepura Kotte Municipal Council, Shalika Ranaweera, added, "I am delighted to see the establishment of this collection center in Rajagiriya, which is located in a densely populated area. It is a facility that everyone can utilize, regardless of location. I hope that more similar initiatives will be undertaken which are needed to promote responsible waste management practices and create a cleaner and more sustainable environment for all."
Cleantech's passionate advocacy for environmental responsibility and relentless dedication toward sustainability can be easily understood by the company motto: 'Because we care.' For over two decades, the company has pioneered environmentally friendly waste management solutions and sought out opportunities to improve waste management practices in the country; Sampath Piyasa is the most recent of such opportunities. Cleantech believes that this program will be of great value to the community and be an essential stepping-stone toward the company's grand ambitions for the future.  It is possible for the public in the future to bring and deliver electronic waste and recyclable waste, further exemplifying Cleantech's commitment to providing accessible and responsible waste disposal solutions for the community.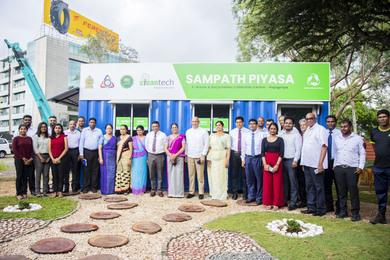 END