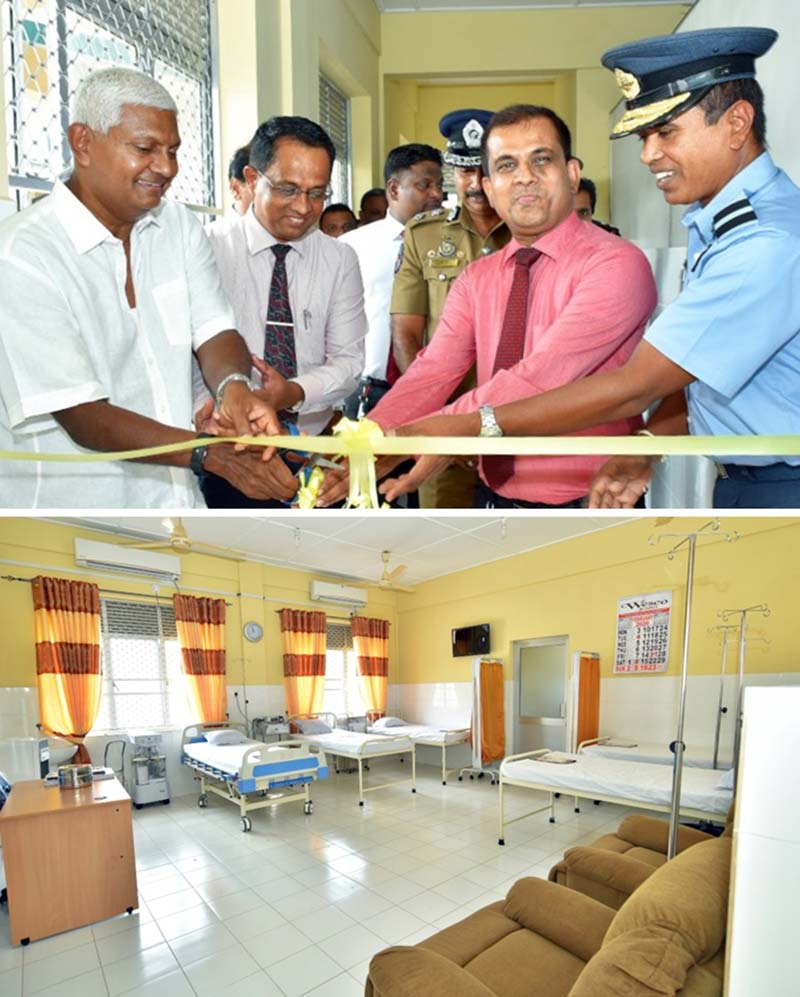 Ceylinco Life renovates & re-equips Chemo Unit for Trinco General Hospital
The District General Hospital Trincomalee has received a fully-renovated and re-equipped Day Chemotherapy Unit for the treatment of cancer patients, thanks to the generosity of Ceylinco Life.
The life insurance leader funded the entire project under which the Unit was provided a new surgical bed, Pulse Oxymeter, Sucker Machine, recliner chair, dressing drum, oxygen cylinder stand, three air conditioners, a water dispenser and furniture. The Company also installed new aluminium doors, new curtains and a stair railing.
The renovated Chemotherapy Unit was formally inaugurated by Ceylinco Life Chairman Mr R. Renganathan in the presence of a distinguished gathering which included Dr Jagath Wickramarathna, Director of the Hospital, Dr Pradeep Alahakoon, Consultant Oncologist, Air Commodore Udeni Rajapaksa, Commandant SLAF Academy China Bay, Deputy Inspector General of Police Trincomalee Range S. Nagahamulla and Principals of prominent schools in Trincomalee District.
This was the first Chemotherapy Unit donated by Ceylinco Life to a government hospital. The company has previously donated fully-equipped and furnished High Dependency Units (HDUs) to five government hospitals. These are the Lady Ridgeway Hospital (LRH) which received a sophisticated High Dependency & Research Unit exclusively for the treatment of children afflicted by Dengue in 2012; the National Hospital of Sri Lanka which received an HDU in 2013; the Jaffna Teaching Hospital which received a Dengue High Dependency Unit in 2014; the Colombo South Teaching Hospital, Kalubowila which received an HDU in 2018 and the Kandy Teaching Hospital, which received a Surgical High Dependency Unit last year.
Ceylinco Life had also donated a sophisticated portable ventilator to the Trincomalee General Hospital in 2015.
The market leader in Sri Lanka's life insurance industry for 16 of the 32 years it has been in operation, Ceylinco Life has close to a million lives covered by active policies and is acknowledged as a benchmark in the local insurance industry for innovation, product research and development, customer service, professional development and corporate social responsibility.
Ceylinco Life was adjudged Sri Lanka's most valuable life insurance brand by Brand Finance in 2019, ranked among the 10 'Most Admired Companies' in the country by the ICCSL that year, named the Best Life Insurer in Sri Lanka for the sixth consecutive year in 2019 by World Finance, and has also been declared the most popular life insurance company in the country for the past 13 years by SLIM-Nielsen.