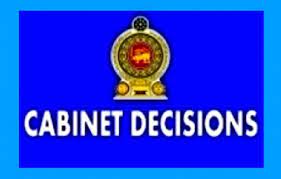 Cabinet decisions
Cabinet of Ministers having met under the leadership of President Gotabaya Rajapaksa took three key decisions regarding the country's economy.
Accordingly, cabinet has decided to pay a special allowance of Rs. 5000 to 3.2 million identified low-income families for two months during the festive season.
Cabinet has given approval for Sri Lanka Lanka Railways to revise train fares under several categories.
Finance Minister Basil Rajapaksa has informed the cabinet that electricity tariffs, Gas prices and fuel prices will not be increased at this moment.
Source – News Wire