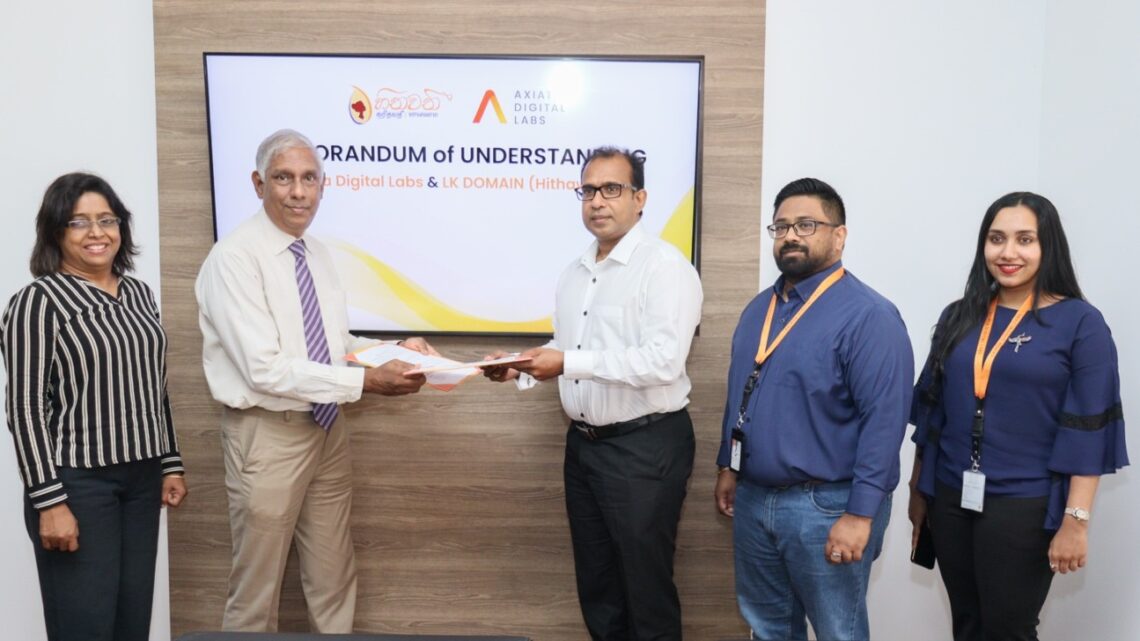 Axiata Digital Labs and Hithawathi Join Forces to Promote Online Safety and Empower Women and Children Online
Axiata Digital Labs (ADL) elevated online safety to new heights by signing a Memorandum of Understanding (MoU) with Hithawathi, a project powered by the LK Domain Registry, aimed at improving online safety for women and children in Sri Lanka. The project provides support, counseling, and advice to internet users, particularly minors, teenagers, young girls, and women.
The MoU signing ceremony between ADL and Hithawathi was held on Tuesday the March 21, 2023, at ADL's Colombo office, located on the 11th floor of the Parkland Building.
The signing of the Memorandum of Understanding is a significant milestone in the collaborative efforts to increase awareness of online safety and create a more secure environment for women and kids only. The partnership will leverage the expertise of both organizations to drive online safety initiatives and to provide support to those who need it the most.
Commenting on this initiative was the Chief Executive Officer at ADL, Thushera Kawdawatta, stating "At ADL we believe that technology should be a force for good, and we are committed to leveraging our expertise to not only creating cutting-edge solutions but also to promote change in society. We are proud to be partnering with Hithawathi, and we believe that this partnership is instrumental in creating a safer online environment for women and children. Through this collaboration, we hope to raise awareness on the importance of online safety and to provide support to those who need it the most."
The partnership between ADL and Hithawathi is a stepping-stone towards creating a positive and safer online environment for all the women and children out there. It underscores the importance of technology in promoting positive change and emphasizes the role of organizations in creating a better society. By joining forces, both organizations are committed to leveraging their expertise and resources to make a real difference in the lives of those who need it most.
"LK Domain Registry, the sole provider of .lk domains in Sri Lanka is delighted to be partnering with Axiata Digital Labs, a leader in innovation and digital solutions and a member of Axiata Group Berhad to promote online safety for women and children. This partnership represents a significant step in our joint effort to create a safer online environment for all. We are looking forward to working with the team of innovators at ADL to develop more initiatives and programs with the aim of raising awareness of the importance of online safety and how to stay protected from trending cyber-attacks and crimes. We at Hithawathi and at LK Domain Registry believe that this partnership will pave the way for greater collaboration in the future, and we are excited to see what the future holds."
Professor Gihan, the Domain Registrar and CEO of LK Domain Registry further elaborated that "Hithawathi is a project set out to help increase the awareness and improve the online safety of everyone out there, and this partnership helps us achieve just that. As the CEO of LK Domain Registry, I'm delighted to be a part of such initiatives and partnerships that enable a safer online environment in the digital space."
About ADL Heartbeat
ADL Heartbeat is the corporate social responsibility arm of Axiata Digital Labs. The ADL Heartbeat initiative is committed to creating a positive impact in the communities where Axiata Digital Labs operates, through various social and environmental initiatives.
ADL Heartbeat partners with local NGOs, government agencies, and other stakeholders to implement its programs and initiatives to improve access to education, healthcare, and other essential services in underserved communities across Sri Lanka.
About Axiata Digital Labs
Founded in 2019, Axiata Digital Labs is an innovative software service provider offering telco-focused digital and IT services and solutions that enable individuals, enterprises, and society. With over 1300 professionals spread across 3 countries, ADL helps global customers in the space of telecommunications, digital services & financial services.  
For more information, visit axiatadigitallabs.com.