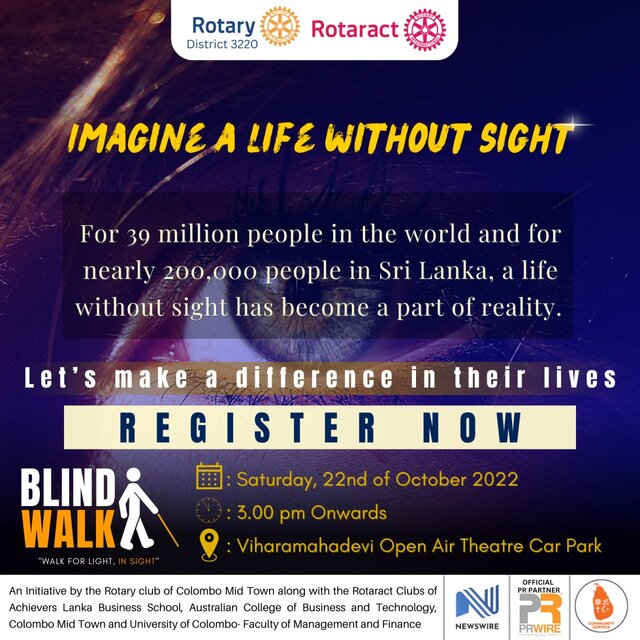 Annual Blind Walk by Rotary Family of Colombo Midtown to be held on 22nd October
BLIND WALK 2022, organized by the Rotary Club of Colombo Midtown and jointly supported by the Rotaract Clubs of Colombo Midtown, the Australian College of Business and Technology, the University of Colombo Faculty of Management and Finance, and Achievers Lanka Business School is scheduled to be held on 22nd October 2022 at the Viharamahadevi Open Air Theatre Car park. The Rotary Club of Colombo Midtown's Blind Walk is a global initiative to raise awareness and promote eye donation for World Sight Day which fell on the 13th of October 2022.
The walk will commence at Viharamahadevi Park and conclude at the same spot with a walk of 1km. Registrations will be open from 3:00 pm, and the walk is scheduled to be concluded by 4:30 pm, which will be followed by a carnival at the Viharamahadevi Park, opposite Nelum Pokuna.
Commenting on this annual project, Akhila Adishwara, the Project Chairman of Blind Walk 2022 stated, "I see blindness more as a power than a weakness because it intensifies the other senses of an individual. This is why we annually organize this event and why we all must take part in the Blind Walk so that we can have a taste of what it feels like to live without sight but keep pushing boundaries despite the challenges it brings about."
The striking experience of Blind Walk is that a visually normal person is blindfolded and is led by a visually impaired individual along a 1km route, where both are in utter darkness on the road. This experience, which will give at least a slight insight into the 'dark world' of a visually impaired person and what they go through on a day-to-day basis, is special and life-changing for all who are bestowed with sight.
Another significant component of this event is the opportunity for all interested participants to make an eye pledge. Those who are keen on donating their eyes can visit a specially installed stall at the carnival where they can register themselves, which is considered to be a highly noble cause. The carnival will also include stalls with products made by the visually impaired, giving them the opportunity to show their potential and show the society on how they strive hard to be independent and self-supporting despite the various challenges faced by them. The Rotary Club of Colombo Midtown and its connections with the Blind Association in Sri Lanka will offer a chance for the visually impaired to showcase their products while other entrepreneurs are also welcome to sell their products and support the project through this event, with prior registration.
Plans are also underway by the Rotary Club of Colombo Mid Town to hand over dry ration packs for the visually impaired. Funds raised from the walk and the carnival will be used to support the Blind Association in Sri Lanka in the long run, therefore the organizers cordially invite all to participate and show support in this worthy cause.
Interested individuals may register at https://forms.gle/pitcAVAakAsiGhfp6.
END